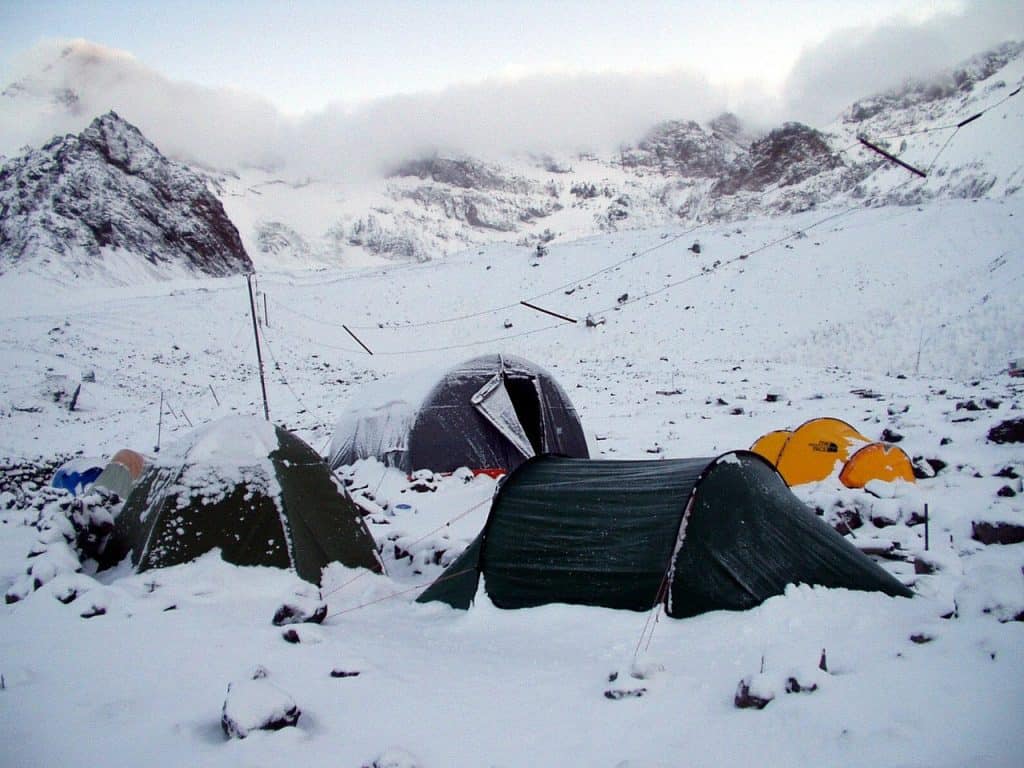 Insulated tents often utilize a thick fabric wall, sometimes double layered or triple layered to keep the inner space warm and cozy. You can also use them in the summer as the thick wall keeps the hot air outside and keeps the inside cool.
There are a lot of tents that claim they are insulated, however,few of them really did the work that survives in the harsh environment.
We spent a whole week researching and comparing the insulated tents that existed on the market, and came up with a few of them that we think are of good quality and worth a try. Hope this review may offer you some useful information.
If you are in a hurry, here are our recommendations.
Best Overall
Best For Summer
---
Best insulated tents compared
Pros
Excellent insulation
Instant setup in 60 seconds
Versibility that can fit in other tents
Breathable
Air beams
Small packed size
The culla series is an update version of crua's former well known cocoon brand.
Crua is the only vendor on the market that provides real insulated tents that endures cold weather with a R-Value of 9, which means it can be used in a temperature as low as -40°F(-40°C).
Many other so-called insulated tents which use double layer designs that work for winter are not really 'insulated', although it can work in many circumstances. Comparing the real cold weather insulated performance, crua is way ahead in many aspects.
Just imagine a tent like a sleeping bag but much bigger, this is exactly what a crua culla cocoon series tent is like. It provides unmatched excellence of insulation that keeps you warm in extreme weather.
An interesting usage is you can treat it like a big sleeping bag that fits inside a large tent. Actually even crua has an official Crua Duo Combo 2 Person Tent that provides this kind of solution by selling a crua culla tent with a crua duo tent together. By this combination, you can camp in cold weather far more beyond your imagination.
The setup and teardown process is quite easy. Unlike the traditional tent with poles,it utilizes an airframe beam design, you can just lay down the tent and inflate it with an air pump.
Note the air pump is not included in the tent and you should buy it separately.
The thick insulation layer gives you perfect temperatures, in summer it keeps cool, and in winter it holds warmth. It also keeps the noise outside, which is a great feature in a campsite with noisy neighbors.
It also blocks out the sunlight and the inner area is dark, this is very useful in the sunny morning when you don't want to wake up at 6:00 am, and it is also good for a nap in the middle of the day.
---
Pros
Two porches
Double layered insulation
Good ventilation
High waterproof ratings
Budget friendly
This is a budget friendly tent. You can put 4 sleeping pads inside, but it is actually a 2p tent if space and comfortability is your main concern.
The tent consists of two layers, you can use the inner layer as a full tent alone, it has big mesh windows and ceilings that gives great ventilation. The outer layer acts as a waterproof shell that can be added to the inner one separately, unlike a traditional rainfly, it is fully insulated from the ground up that forms an outer layer of the tent. This design makes it very flexible, you can strip out the outer layer at night if the weather is hot to achieve maximum airflow.

Another highlight of this tent is it has two vestibules. You need to open the out layer first to access the door at the inner layer, and they just designed this into an additional feature that you can pitch the outer layer panel up as a porch, this works in both the front door and the rear one.
It is designed to endure bad weather conditions, the waterproof rating can be more than 3000mm, which is a lot more than most tents on the market.
This is a great tent for summer camping, although you can use it in winter, we don't recommend it for very low temperatures with snow around. The porches can provide more shade on summer days for relaxing.
Pros
Spacious
Quick setup with air beam design
Porch
Good insulation
Tall enough to stand inside
Durable
The Crua Core 6-person tent is quite large, it has a floor size of 16×12 ft (4.9×3.7m), it is big enough to hold 6 people with comfort. Other vendors with the same floor size even claim their tent to be 10-person or 12-person just by how many sleeping pads they can fit in. Crua is moderate at their statements without exaggeration.
The height is 7.5ft (2.3m), so you can stand inside freely without bent.
There is a large porch where you can store your gear and provide welcome shade from the heat and shelter in more difficult conditions.
Like other Crua tents, this is an instant set up tent with the air-beam technology too, you can set it up in minutes with the air pump. you don't need to buy the pump separately as it is pre-included with the tent.
Although it provides enough insulation that can handle the cold weather in many scenarios, you can do furthermore. Combining this tent with the Crua culla series, with the smaller cocoon tent inside, would create an incredible insulation that can sustain any extreme cold weather.
The fabric is made with breathable polyester material, with a 5000mm water-resistant outer layer. At the bottom of the tent it has mesh windows for ventilation, which can be zipped off.
The tent is durable with a good quality, but it is a little expensive. Since Crua is has the best insulation technology on the market, we think it worth the price because no other rivals can provide such an insulation level.
---
Pros
Instant setup with pre-assembled poles
Good ventilation
Light weight and easy to carry
Double layer design
Storage pockets, lantern hook and E-Port
Cons
Can't sustain extreme weather
The ayamaya tent is specially designed with a double layer, this provides more insulation that can be used in all seasons. However, compared with the Crua tent we reviewed before, this one is less effective in the cold environment.
The price is reasonable too, it is an alternative if your winter camping environment is not severe.
The poles are pre-attached with the mainframe, thus an instant setup design. you can just pop up and pitch the tent with ease.
The floor size is 12.5 x 8.5ft(3.8×2.6), only half the size compared to the Crua Core 6-person tent. So actually this is a 3-person tent if you want comfortability.
The vestibule design offers separate room for lots of camping gear, shoes or your large dog. It has an E-Port that lets you run a power cord from outside into the tent.
Storage pockets on the wall give you places for your necessities like phones or glasses and keep your items organized. There is also a lantern hook at the front of the tent.
The circulation is good, 2 large front door and rear hooded vents provide airflow for cross ventilation and prevent condensation. It also has large mesh windows on the left and right sides that provide both ventilation and sight viewing.
The tent is made of 4000MM waterproof polyester, with a 3000MM waterproof PU-Coated polyester fabric roof. It can sustain from mild to moderate weather conditions.
Unlike many other tents, the package is round. It is lightweight and easy to carry for hiking but would occupy a little more space for car transportation.
---
Pros
Spacious
good insulation with Thick walls
Cabin like to stand inside
Good quality
Cons
Specially designed for ice fishing
This is not a general purpose tent as others mentioned in this review, it is specifically designed for ice fishing. It has no floors with the open bottom design so that you can dig a hole in the ice ground of the water surface for fishing.
However, to some extent you can use it as a tent in many scenarios. It is well insulated and has a solid quality.
The wall is thick,with three-layer,abrasion-resistant,bonded fabric that provides great insulation that holds warmth. Compared with other tents in this review, it is better than many others, but not as good as the Crua series.
It's a 3-person tent, with floor size of 9.3×9.3ft (2.85×2.85m) makes it quite spacious with an average 29ft²(2.7m²) per adult. As for height it is tall enough for adults to stand inside.
There are several mesh pockets on the wall for storing items, and a few small windows with removable panels for adjusting the shelter's ventilation.
You should avoid using it on snowy days due to the flat roof design, which is vulnerable because snow can accumulate on top of it and the weight would finally crash the tent.
If you want a tent for ice fishing, this is a good choice. We also have a dedicated review about ice fishing shelters here.
---
Pros
Great value for money
Lightweight
Good ventilation
Two vestibules
Double layer and water-resistant
Snow skirt
Cons
Can't withstand extreme weather
The GeerTop tent features a double layer design that gives it good insulation that makes it a four season tent. It is very popular for both winter and summer camping.
This is a 2 person tent with a floor size of 6.9×4.6 ft (2.1×1.4m). It's fairly easy to fit a queen size air mattress inside.
The fabric is made of polyester with a water-resistant level of PU3000mm, which is enough in most cases ranging from mild to moderate weather conditions.
It has two doors at front and end, with small vestibules on both sides for you to store shoes and other items. It is protected by the fly and keeps your luggage dry.
The ventilation is good, due to the two door double layer design, big mesh windows located on each door let air flow freely through. The roof is mesh with an independent inner fly that provides more circulation.
The built in snow skirt carries rain and snow away from the tent, keeping the ground underneath dry.  It performs well in wet or snowy weather.
There are many convenience designs: a lantern hook at the top of the tent, and several storage pockages on the wall.
The tent is lightweight, just over 7 pounds, it's a good choice for bike or canoe camping, or short backpacking trips.
As for the price, it is affordable and very competitive, with no compromise on the overall quality. It is a great choice if you have a low budget.
---
What is an insulated tent and how it works
An insulated tent is often featured with technologies, like thick fabric walls with two layer or three layer design, that keep the cold out and warmth inside.
If you are seeking maximum insulation, right now on the market there is only one company called Crua that provides such products, with their own patented insulation technology, that can offer 19 times better insulation than a conventional tent, which is awesome.
However, some tents with a thin coating layer that provides some type of warmth-keeping may claim they are 'insulated'. They did have some protection, but the overall performance is far beyond a tent with two layer or three layer designs.
Benefits
Four season tents you can camping all year round
The insulated tent is better for cold weather because it can keep warmth inside,but if you use it in summer it also works great as the tent also keeps the warmth outside, which gives the inner space much cooler. With good ventilations, you can camp out with it for all seasons of the year.
However, it is always much heavier to carry, but for car camping this should not be a problem at all.
Block out noise
One of the side benefits of the insulated tent is it can block noises outside as well due to the thickness of the fabric. This can be great if you are in a camping ground that has lots of campers nearby.
Light blocking
The thick wall can also block out the sunlight that makes the inner room darker and cooler, this is a good feature in the summer.
Actually this is a common problem in the summer that many vendors even introduced special designs like "Dark Room Technology" or "Dark Rest Technology" to solve it. All of this technology is achieved by a special coating layer that blocks light.
However, the thin coating layer is dwarfed by the thick walls used in the insulated tents. From UV to normal lights, the insulated tent excels in every aspect.
What is R-value
The R-value is the building industry term for thermal resistance "per unit area.". However, for the camping product, the item has a slightly different meaning. It is intended as a simple, non-technical rating which consumers can understand. You just need to know that higher numbers indicates better insulating.
You can find a more in depth explanation of R-value on wikipedia.
Things to consider before buying
Warmth
Maybe the most important thing you are looking for in an insulated tent is the ability to keep warm. If the vendor provides a R-Value, then the higher the better.
However, only professional tents provide such a thing. In many cases you should judge by yourself from the materials they are using.
An important factor is how many layers they have, a two layer tent works better than a one layer tent with thicker fabric. The reason is because the outer layer separates the cold air outside and keeps a thin gap between the inner layer that slows down the heat conduction significantly. The more layers they are using, the better insulation it has.
Size / capacity
Choose a tent that will accommodate the size of the group you are camping with. Although many tents have an explicit capacity label indicating how many people they are designed for ,You should pay more attention to the actual average floor space one person may share. Some vendors give that number just with how many sleeping pads they can fit into, so it is possible a 3-person tent from one company may be bigger than a 5-person tent from another.
However, smaller tents often work better in the cold environment than a bigger one. If you are camping with a lot of people, an alternative solution is using a smaller tent inside the bigger one, the Crua Culla Cocoon series is designed for this exact scenario.
Ventilation
A good insulation tent is designed to be breathable, it has the essential vent to give sufficient air flow without the sacrifice of losing temperature, and also to keep the inner space dry and cozy.
You can see many summer tents with big mesh windows. It is possible for a winter to have such a design, because the window can be zipped off in the cold environment.
Small vent port is a good design for an insulated tent, they provide the fundamental air circulation and hold the warmth inside.
A multi layer tent often has better ventilation than the single layered one. Unlike the direct exchange of cold air from the outside, they keep the air flow between different layers, each layer is slightly warmer than the outside one.
Final words
If you want a tent with the best ability that keeps warm, the Crua Culla series is the only choice on the market that provides maximum insulation, you can combine this cocoon tent with a bigger outer tent together to give an even more awesome cold weather protection that almost works in any fierce conditions.
In many cases a double layer tent is sufficient if the camping environment is not so harsh, especially when you have a limited budget. The GEERTOP 2 Person 4 Season Waterproof Ultralight Backpacking Tent is an excellent choice if you care more about the buying value of your money.
Best overall: Crua culla series
Best budget: GEERTOP 2 Person 4 Season Waterproof Ultralight Backpacking Tent
Also good: Crua core 6 person all weather family camping tent
Best For Summer: KAZOO Uranus 2/4 Person Double Layer Camping Tent with Porch
Keep Reading: