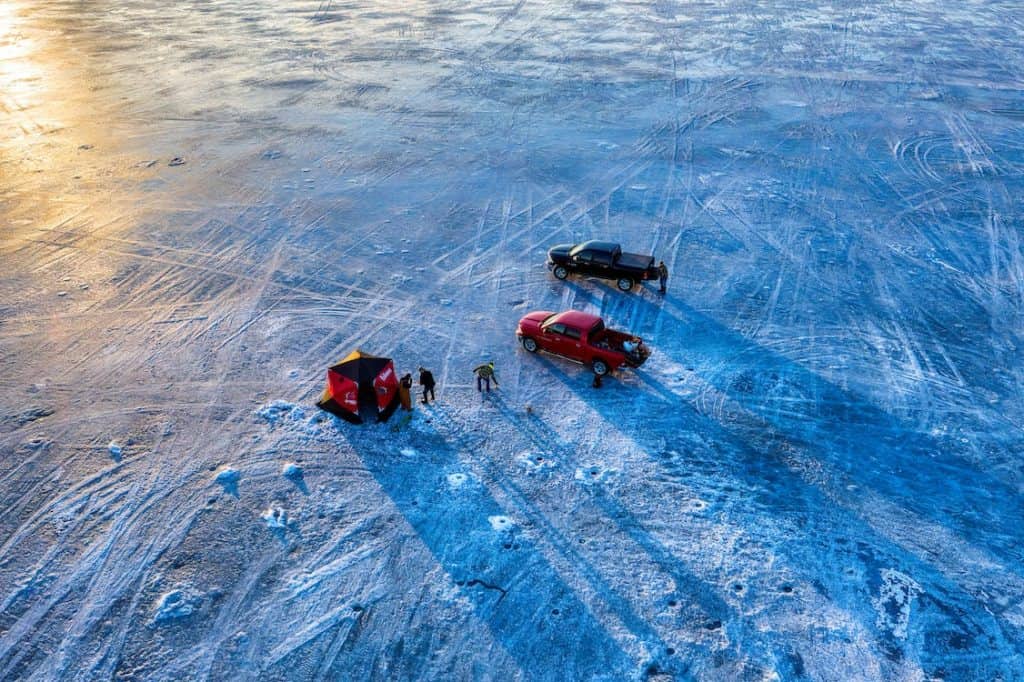 Winter is coming, and it seems there are fewer outdoor activities you can do than summer. But it also has a lot of fun things and unique experiences you should try. Ice fishing is one of my favorite among them.
Sitting in the cold weather for a few hours will be a challenge if you are not well prepared. Even with properly layered clothes, you can still feel cold after sitting still for a long time. The less movement means less heat you'll generate, and the blowing cold wind also contributes to your feelings. And remember, you are also sitting on an ice surface. All those things make it terrible for anyone who wants to try ice fishing but unprepared.
Ice fishing shelters are the exact solution you should try. They are small huts that protect you from cold wind and keep the inner space warm. After spending a week researching and investigating, we carefully picked up a few ice fishing tents that are suited for different scenarios. We hope it can help you somewhat.
If you are in a hurry, here is our recommendations:
Let's dive into more details and take a closer look.
How to choose an ice fishing tent
Warmth / Insulation levels
The most important thing you want to buy an ice fishing shelter is keeping warm. This is the core feature that determines your fishing experience.
It is hard to judge which one is good at keeping warmth because there is no international standard or definitions on the shelter's warmth level. But we can still guess from the material they use and layers or thickness of the fabrics. There are many factors involved and it's hard to tell.
The most important factor is insulation, a good ice fishing shelter often comes with a well insulated design(or quilted) to keep it warmer, however, this also means it will be heavier.
Just one important thing you should keep in mind: many of the ice fishing shelters would say they are insulated explicitly if it holds warmth well, if you didn't find out those declarations, it always means it does not perform as good.
Hubs vs Flip-overs
Many products existing on the market are the hub style ice fishing tent, it is light and portable,often can be more spacious.
If you want more comfort, the flip over ice fishing shelters, or flip-ups, might be a better option. They often have a luxury seating system inside(like seats in your cars), this is a huge contrast with the hub style tent in which you must bring your own chairs.
However, everything comes with a price, the built-in seat will add a lot of weight to the flip over shelters, for example a total of 80 pounds, making it hard to transfer, even from your car to the fishing site.
Weight and portability
This is very important because many pop-over shelters are very heavy, for example 74 pounds. Even if you are carrying it with a car, it is still a lot of sweat work to transfer it from the parking place to your fishing site.
Although the hub style tents look lighter, they are not easy for a weak man to carry. For example a 2 person shelter may have a weight of 20 pounds, this should be ok for a normal adult, but it still not an easy task for women or elders if the fishing site has a long distance.
Doors and windows
Windows and doors are a great part, the more the better. You can control the inner air circulation and ventilation with windows located on the wall.
When you are fishing with a group of people, entries from different sides of the wall should have a huge impact because the inner space is small and one must cross each other to get out if there are only one or two doors, also remember there are holes and you fishing equipment between each other, one must carefully come across all those things.
Sizes
Ok, this depends on how many people you are fishing with, for most of the time I love fishing alone, or with one or two friends. Most of the ice fishing shelters are designed for a small number of people. But there really are products for a large group, for example 5~8 people.
You can always pick a bigger one if space is your concern, for example a 2p shanty for yourself to get additional spaces. But, remember, small tents always feel warmer because they have small areas and heat will lose much slower than bigger ones.
Best Ice Fishing Tents Compared
Eskimo is the leading brand for ice fishing shelters, you can trust their product's quality, and the price is reasonable, although not the cheapest, I think that is the margin for the brand.
The QuickFish series have different choices ranging from 2p to 6p, with options of insulated and uninsulated. We always recommend the insulated ones if you have enough budget, it is much warmer and feels comfortable.
It has a quick set up design, and they officially claim you can put it up in 60 seconds. They are pre-assembled and can be easily pop-up. However, it is not an easy task to set it up on windy days alone, it would be better to have someone helping you from the other side.
It has two doors and several windows, the window panels can be removed for better ventilation control.
The weight ranging from 18lb(2p) to 54lb(6p), the whole tent can be put into their carrying bag for better portability. As they claimed, they are using better fabric that is known for saving up to 19 percent over most competitors.
This is a popular ice fishing tent and existed on the market for many years, so you can just pick it if you have little idea about ice fishing.
Pros:
Quick setup in 60 seconds
Removable window panels
Wind resistant, hold heats well
Easy to carry
Cons:
Takes time to tear it down to put back to the carrying bag
This is a flip-over ice fishing tent, if you don't know what it is please read our introductions here.
The most distinguished feature is it has a built-in deluxe seating system, it is very comfortable. As you can see in the picture, the seat is well designed and warm, this is far better than a folding camp chair..
But everything comes with a price, the seating system makes the flip-over shelter very heavy, often more than 80 pounds. It is not an easy task to transfer it from your parking place to the fishing site.
It also costs more, those kinds of shelters are much more expensive than a hub style tent.
Pros:
Built-in luxury seating system
Warm and comfortable
Cons:
Heavy to transfer
expensive
This ice fishing tent has a lot of features, similar to the Eskimo QuickFish, but has a very competitive price. It works for most scenarios and not bad.
With 15 pounds of a 3p shelter, this is much lighter than the Eskimo tent, making it much easier to transfer. Plus, it also comes with a carrying bag.
We should remind you that it is not fully insulated. It can provide a certain level of comfort, warmth, but you shouldn't expect too much. As we said, it's cheap and it works for most scenarios.
Pros:
Affordable with a competitive price
Light and portable
Removable window for better ventilation
Pop-up design for easy setup
Cons:
Well, this is not the best tent or the cheapest, but it is affordable, with many features.
The reason why we pick it here is because it has a unique blackout coating design that blocks out all the sunlight, unless you want it in with the removable window covers. This is not a big feature for ice fishing, but we think someone may need it.
The tent is not insulated, you may get frosty inside, but it works for most of the time and provides a certain level of protection that keeps you warm. If you want to add a little budget they also have an insulated version for your choice.
Anyway, we think it is not bad for the money, it is cheap but not the cheapest.
Pros:
Black out coating
Reasonable price
Quick setup
Cons:
Not insulated, but do have an insulated version with much higher price
Like other Eskimo tents, this ice fishing shelter is just an extra sized version, with a total area that fits 7-9 people all together. It is good for a whole family or a group of friends to go out fishing together.
The tent is well insulated, with the 3 layer IQ(Insulated,Quilted) fabric, it can provide a good level of warmth, and with more people inside, everyone will generate heat, making the inner space very comfortable.
It has many windows with removable panels, which gives you more control on the air circulation, this is useful when the inner space has more condensation.
But, it only has one door in the front, this may cause a lot of problems if you have many people inside, if someone wants to get out he must come across others, passing the holes and equipment, it is very inconvenient. It would be great if they have doors on each side of the wall. But if you keep the groups of no more than 5 people there should be enough space for movements and this should not be a big problem.
Nothing is perfect, in all this is a solid tent with a lot of features, we still recommend it if you have a large group of people or a whole family.
Pros:
Big, over sized
Many windows for ventilation
Pop-up and portable
Well insulated and hold warmth
Cons:
It would be better if add more doors
Final Thoughts
Ice fishing is very interesting, especially when you really get a fish. And getting out in the frozen world also is a great experience too. No matter if you are an experienced angler or just starting out, these should be great memories.
As we said before, all those ice fishing shelters are worth a try, it is just a matter of your own requirements. If you are tight on budget, the PEXMOR should be a good choice, but if you want luxury experience, the flip over ice fishing shelter is definitely the type.