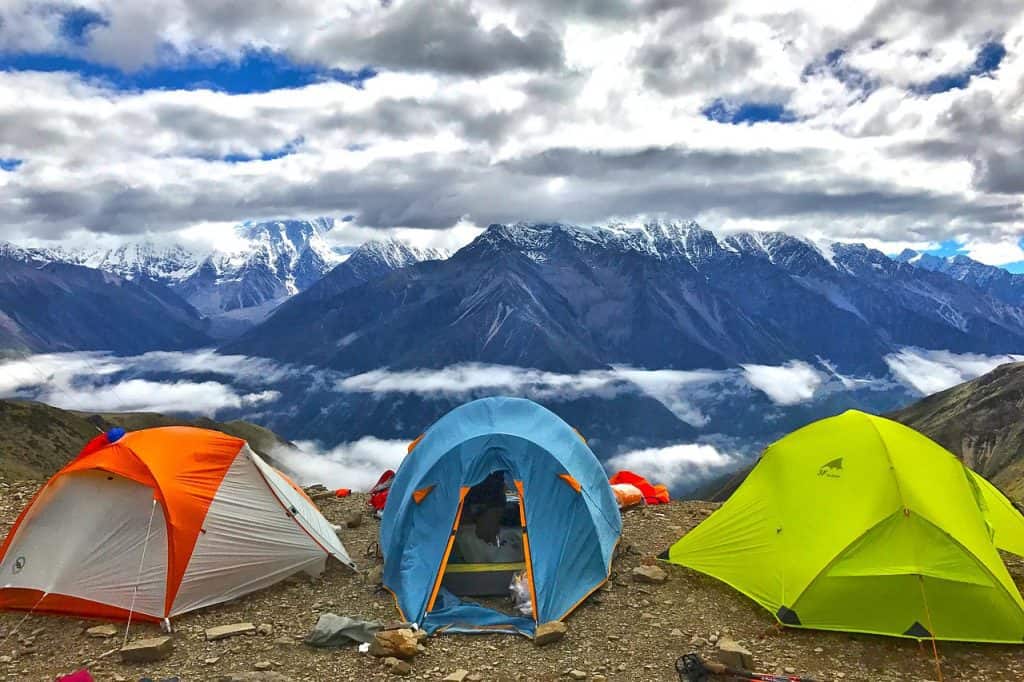 Sometimes putting up a tent can be a stressful and complicated affair. If you aren't used to the tent, it may take you half an hour or more to get your shelter up. An instant tent may be the solution you are looking for. Many instant tents come with the poles that unfold and extend already attached to the frame of the tent, making them easy to pitch in under a minute. We took our time finding the easiest tent to set up by yourself. We compared and evaluated dozens and got the list down to 6 tents that could be perfect for you.
When my wife and I are camping with the kids, it isn't easy to divide our attention. Somehow we have to get the tent up, make sure our youngest hasn't stumbled into a patch of poison ivy or that our eldest hasn't started a forest fire. This means I'm always looking for the easiest tent to set up alone. I can take care of that while my wife makes sure we don't have a trip to the hospital in our future.
For me setting up is one of the least enjoyable parts of camping. I want the quickest tent to set up for my weekend away. I'm not a fan of taking out all the parts, putting the poles together, and making sure it all fits properly. Unfortunately, it's a necessary evil. But we can ease the frustration by guiding you through some of the easiest tents to set up yourself.
Here are our selections for easy to assemble tents:
Best Overall: Coleman 6 person Instant Cabin
Also Good: Core 9 Person Instant Cabin Tent
Best Budget: Coleman Sundome Camping Tent
Best For a Family: Timber Ridge 6 Person Instant Tent
Best Entry Level: Moon Lence Instant Pop Up Tent
Best Darkroom: EVER ADVANCED Instant Blackout Camping Tent 6 Person Cabin
Let's dive into more details.
Best Instant Tent Compared
Again Coleman makes the top of our list of easy to set-up tents. Their products are reliable and built to last. The 6 person Instant Cabin takes everything I dislike about putting up a tent and throws it out. In just a couple of minutes the tent is up and you're securing it to the ground with the supplied stakes. The poles are already attached to the tent and foldable. Simply remove it from its carrying bag and unfold it. Extend the poles and lock them in place and you're done.
Coleman rain and wind tests all their tents. Coleman tested this tent by spraying with 35 gallons of water for 10 minutes and it stays dry during testing. It also stands up to 35mph winds. This kind of testing should create confidence in the product. The 10ft by 9ft floor space is large enough for 2 queen-size mattresses and has a 6 foot center height. It's spacious and tall enough to be comfortable in case of rain. I would like to have an additional rainfly for added protection, but that would add to set up time.
All things considered, and they were, this is our pick for best overall tent for easy setup.
Details:
Sleeps: 6  Weight: 24.9lbs Height: 6ft Dimensions: 10ft x 9ft (90sq ft) Doors: 1
Pros:
Fast Setup
Spacious and Comfortable
Durable
Cons:
Core, like Coleman, does camping very well. Their products are top of the line without breaking your bank. They focus on functionality and durability. Core creates products based on their experience outdoors and knows what we want.
The set up for the Core Instant Cabin is fast. Really fast. You'll have the tent up and ready to go before the kids can complain that they are hungry. The pre-attached poles easily unfold and extend, snapping into place when at full height. In under a minute the tent is up and ready to be anchored to the ground. There are a few more steps than with the Coleman, like putting on the rainfly, but in under 5 minutes the tent is up and ready to go.
There is a lot of floor space to enjoy and a room divider if you want some extra privacy. At 14ft by 9 ft there is enough room for everyone to sleep comfortably and store your bags. The large doors and windows provide plenty of ventilation and easy access in and out. The one downside of this tent is it requires two people to set up. One person needs to hold the pole at one corner while the other person unfolds the rest. Given how fast it is to do this, that isn't a deal breaker in my book.
Details:
Sleeps: 9  Weight: 30.5lbs Height: 6ft 6in Dimensions: 14ft x 9ft (126sq ft) Doors: 2
Pros:
Quick and easy setup
Large interior
Room divider for privacy
Cons:
Heavy
May not be as weather resistant as the Coleman
It's the Coleman show. It's hard to have any best list without 1 or 2 spots being taken by Coleman. Check out this list for example. Coleman equipment is affordable and well designed. You'd be hard pressed to find gear that fits your budget and not end up with Coleman.
The Sundome comes in several sizes. Ranging from 2 to 6 persons there are options for every budget and need.. At 7ft by 5ft the 2 person isn't a family tent, but for a couple or by yourself this could be the way to go. Like the Instant Cabin they tested it in winds upwards of 35 mph. They don't sacrifice quality for price. It weighs in at 7.5lbs making it ideal for backpacking. Even the 6 person weighs only 16lbs. For someone on their own, set up time averages around 10 minutes. This means that you could have your tent up and be sitting by a fire in under half an hour. With practice set up should get quicker. The rainfly and Coleman quality control should keep you dry on rainy days.
You can read our dedicated reviews for the Sundome tent here:
Details:
Sleeps: 2 – 6 (depending on model)  Weight: 7.5lbs – 16lbs Height: 4ft – 6ft Dimensions: 7ft x 5ft (35sq ft) – 10ft x 10ft (100sq ft) Doors: 1
Pros:
Very budget friendly
Easy set up
Quality material
Cons:
Small, even the 6 person size may be tight with that many people
Full disclosure, I'm not very familiar with Timber Ridge. That being said, their focus on family camping is something I can get behind. Being a father who enjoys getting my kids out in nature and away from electronics, a family centric camping brand is appealing to me.
Their 6 person Instant tent could be the right entry point for a family looking to camp for the first time. It's a cabin style tent with a 6.5ft ceiling and 10ft by 10ft floor. The quick and easy setup lets you get it up and enjoy your weekend with the family with minimal stress. One word that comes to mind with this tent is "classic". It has a classic design with a single door and 3 mesh windows. The construction and materials are sturdy and weather resistant.
In my experience sleep capacity in tents is overestimated. Timber Ridge, like the others on this list may not sleep as many as you expect. For a family of 2 adults and 2-3 children it should be more than comfortable for everyone. The ease of setting up this tent means ‌you can put it up in your yard and let the kids camp out back while you enjoy a glass of wine on the porch.
Details:
Sleeps: 6 Weight: ~20lbs Height: 6.5ft Dimensions: 10ft x 10ft (100sq ft) Doors: 1
Pros:
Quality Material
Easy one person set up
Good for a family
Cons:
A little heavy for its size
We all start somewhere. The idea of spending upwards of $300 or $400 on a tent when you may not use it very often can be intimidating. If you like the idea of camping but don't have a lot of experience or are unsure if you'll enjoy it this may be a good choice. It's a simple basic tent. And in the beginning that's all that's needed.
The Moon Lence isn't huge, but it isn't tiny either. 9.5ft by 10ft is pretty average. What I like is the sleep capacity of 4-5 adults, which I find more realistic for that size than 6. The instant pop up design is ideal for people with less experience fighting with foldable poles and rainflys. Being an entry level budget tent the construction and materials may not be at the same level as something from Core or Coleman. It would be wise to test this out on a weekend at home or when there will be minimal severe weather.
Details:
Sleeps: 4-5 Weight: 10.25lbs Height: 4.3ft Dimensions: 9.5ft x 10ft (95sq ft) Doors: 1
Pros:
Simple design and set up
Very Affordable
Cons:
Shape may not fit larger air mattresses
Most people choose this tent because it offers a great dark rest environment that enables you to sleep late in the morning without worrying about waking up in the sunlight. However, this tent has an instant setup design too. EVER ADVANCED claims it to be set up in less than 60 seconds. Even a beginner with no experience can expect to pitch it up quickly. We recommend trying it first in your backyard if you have never touched a tent before to get familiar with the basic structures.
This is a really good tent, solid and durable. We already recommend it in our best blackout tent review. You can find it here.
Details:
Sleeps: 6 Weight: 24.69lbs Height: 6ft Dimensions: 9ft x 9ft (81sq ft) Doors: 1
Pros:
Blackout and UV resistant fabric
Good ventilation
Power channel and convenient storage functions
Durable material
Cons:
Advantages of Pop Up Tents
Pop up tents have several advantages over the traditional style. The poles usually come pre-attached to the canvas of the tent and easily extend and click into place. Set up time can be as little as 1 minute by 1 person. Their simple, straightforward design makes them easy to put up out of the box without sacrificing the quality of the product.
When you get to the campsite all you have to do is open the bag and pitch your quick setup tent in just a couple of minutes. Reducing the stress of getting your site set up is important to enjoying your time camping.
What To Consider when Choosing and Easy Set Up Tent
Portability
As always, the tent you choose has to fit what you want to do. If you plan on taking it hiking, then a 9 person 30lbs tent won't be right for you. If you'll be driving to your site but plan on being there for more than just a couple of nights, you may want something larger and more durable.
Size
If you are camping with just your spouse and kids, then your needs will differ from camping alone. Remember how many people the tent sleeps then consider if that is enough room. Consider the amount of gear you will keep in your tent as well, such as sleeping bags, mattresses, etc.
Durability
Weather is unpredictable. You want to be sure the construction of the tent is durable and will hold up under strong winds and rain. Wear and tear is another factor to consider. Will the material of the tent hold up under prolonged use?
Budget
Only you will know what you can afford. Luckily there are many tents out there that are well made and easy to set up yourself without breaking the bank. More expensive isn't always better.
Waterproof Your Tent
Most of the tents on this list go through some kind of testing. This shouldn't be taken for granted. There are many types of waterproofing spray on the market that could increase the weather proofing and lifespan of your tent.
And My Choice Is…
Timber Ridge 6 Person Instant Tent
Timber Ridge intrigues me. I like their focus on family camping and I think this tent is perfect for me to try out their products. This tent is both large and easy to set up alone. I would even give this job to my teenage son while I help with setting up the rest of the site.
To me this tent seems like the Goldilocks of the list. It's just right in all the places. It is big without being too big. It's sturdy without being too heavy, and it has that classic tent look and feel. It reminds me of the tents of my youth without my dad getting angry and telling my mom how much he hates camping.
It's also perfect for backyard camping when the kids have a sleepover with friends. And I would feel comfortable letting my teenager bring it to his friend's house for camp outs. This is a well-rounded tent that could hit many of your personal needs in a tent.