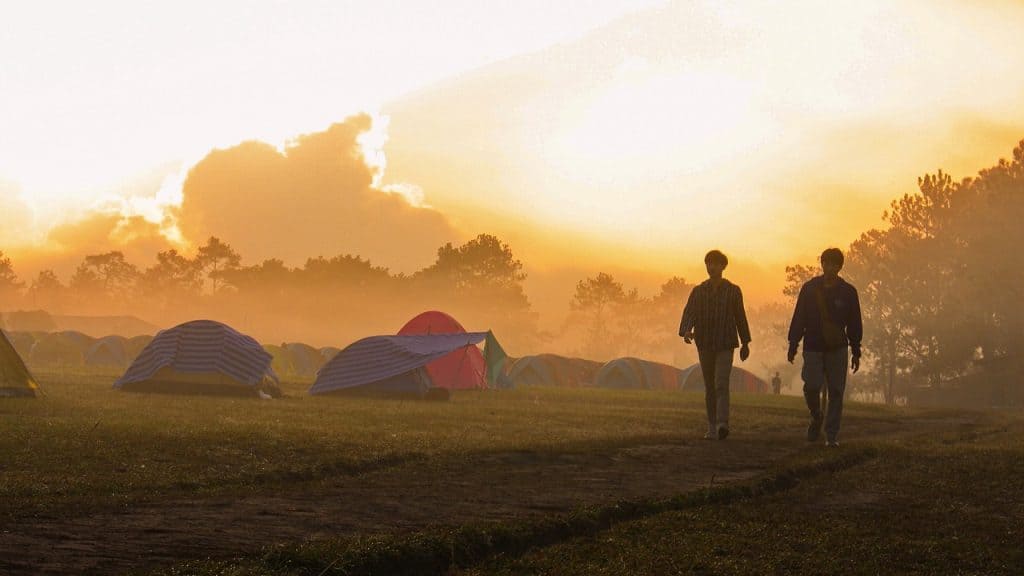 When I was a kid, maybe 8 or 9 years old, my family took a trip across Canada. We spent 3 weeks camping across the country. In one tent. All 5 of us, my parents and 3 kids. Back in the 80s multi-room tents weren't a thing. Well, they might have been, but we certainly couldn't afford one. We had to cram ourselves into a 6 person tent. Let's face it. Those tents only really sleep 4 comfortably. What I would have given to have a larger multi room tent. Or an RV, but that's a whole other thing.
Those days are long behind us. Tent technology has advanced or someone somewhere had the same experience as me and doesn't want others to suffer. Many companies are producing larger multi-room tents. This gives campers more options when camping with friends or their kids. It provides privacy and comfort for everyone. The larger floor space also allows for larger air mattresses. Camping is no longer a matter of roughing it and wishing you were in a hotel.
We spent weeks researching and finding tents ‌we felt comfortable recommending as the best. These 5 tents could be the difference between a comfortable, enjoyable weekend and a cramped night sleeping face to face with someone you barely know. We're going to evaluate weight, affordability, construction, and size. Any of these tents could be a great choice, but the goal of this review is to help you make the right choice for your needs.
Best 2 Room Tent Compared
Pros
Sturdy and Functional
Large interior
Separate screen room for bug free living
Cons
Heavy (weighs in at 32 pounds)
May need some waterproofing
Set up time
Sleeps: 6  Weight: 32lbs Height: 6ft 8in Dimensions: 11ft x 9ft (99sq ft) Doors: 1
Technically, this is a 2 room tent. It has a main sleeping area and an attached screen room for eating in a bug free environment. It has 2 sleeping areas fitting 3 people each. Meaning Mom and Dad can sleep in one and the kids in the other or allows some privacy when camping with friends. The screen room lets you enjoy meals without constantly swatting away flies or mosquitos. It boasts an impressive footprint at 99sq feet, and a height of 6 feet 8 inches. Even the tallest family can stand up with room to spare. Unless you're a family of Wookies. The hinged door allows easy access when your hands are full. This is also a helpful feature for kids since they won't need to remember to zip it up when going in and out.
Coleman has been a staple in the outdoor living game for over 100 years. This ‌is enough to instill confidence in their products. Maybe not as flashy as some other brands. Their gear is sturdy and functional.
I would suggest the use of a tarp under the tent to prevent moisture from seeping through the floor. This isn't specific to this Coleman however, as I do that with every tent. Being on the heavier side this isn't a tent for backpacking. But for a weekend getaway with the family this could be a solid choice.
---
Pros
Quick and easy set up
Affordable
Sleeps: 4 or 6  Weight: 13.4lbs / 18.6lbs Height: 6ft Dimensions: 8ft x 7ft (56sq ft) / 10ft x 9ft (90sq ft) Doors: 1
Core is a company that prides itself on the quality of their products, as Han Solo might say they've got it where it counts. Their cabin tents are no exception. The 4 person version has a small footprint at 8ft by 7ft. This means that you should have no problem finding a place for it to fit on your campsite. The 6 person, which may be ideal for a family with older children, is 10ft by 9ft. The nice thing about the straight wall design is the amount of headroom it provides. The 6ft ceiling is the same almost everywhere instead of just the middle.
I would like to have a larger vestibule. This smaller vestibule doesn't provide the space you might need if it were raining, but still want to feel like you're sitting outside. The rain fly is removable, letting you enjoy those clear starry nights and makes it easy to clean. The smaller size of these tents makes them quick and easy to set up. It may take practice putting it up with a partner before you can do it yourself.
For a small family that wants to take their kids camping for a weekend, this tent would be my choice.
---
Pros
Spacious inside
Very affordable
Removable room divider
Cons
No vestibule
May not do great under heavy rain
Sleeps: 8  Weight: 17.4lbs Height: 6ft Dimensions: 14ft x 9ft (126sq ft) Doors: 1
If you're looking for space, then that is what you'll get with the CAMPROS 8 person tent. It features a respectable 14ft x 9ft area, and a removable divider splits into 2 rooms. It provides enough space for 3 queen size air mattresses should you leave the divider down and maximize your space. Remember what I said in the beginning about wanting more space on our family camping trips? This is what I was talking about. And the affordable price point should keep you from breaking the bank.
The 5 mesh windows and top allow ample airflow to keep it cool on those hot days. The polyurethane coating will keep you dry in light rain. How it holds up under intense weather remains to be seen.
---
Pros
Affordable for what you get
Separate doors for each sleeping area
Able to use each separately and connect more if needed.
Easy set up
Weatherproof connections
Cons
May not have great head room
No vestibule or additional living area
Very Heavy
Sleeps: 10  Weight: 44lbs Dimensions: 8ft x 6ft (48sq ft) and 12ft x 10ft (120sq ft) Doors: 2 + 4 connection ports
Back to Coleman. As much as I would like to profile other companies it's hard to deny that Coleman has elevated camping with this offering. This combo comes as 2 separate tents for maximum configuration. The 2 sections connect via a zippered door to create something that resembles one of those hamster habitats. It is honestly a system I am surprised more companies haven't experimented with. The added benefit is that you can use both tents individually. If you are going away alone or with another person, you can take just the 3 person tent and for family weekends bring both. It can also connect to other sets to create a small village.
Updated: If you are interested in those connectable designs, we have added an individual review that covers almost all the connect tents on the market
Each tent has its own entry and the connection port can be closed for extra privacy. The poles are pre-attached and setup is easy. The extra connection ports on the 6 man section lets you configure the tent to fit the area you are camping in. Height may be an issue. I can't find the exact height of each section, but they appear shorter than other tents on this list. So that's something to keep in mind.
Coleman's Weather Tec system does an admirable job of keeping you dry. The welded seams and inverted floor serve to keep out the rain. And the frame is rated for 35mph winds. There is a downside with both tents having their own rain fly as it doesn't offer full coverage. Overall, this may be less of a problem during drier summer months. Just like the Core Straight Wall Cabin, it lacks a vestibule. I can only assume the addition of a screened in living space would limit the configuration options available.
---
Pros
Sturdy and well built
Huge amount of space
Removable room divider
Sleeps: 10  Weight: 34lbs Height: 7ft Dimensions: 14ft x 10ft (140sq ft) Doors: 1
Ozark Trail is a familiar name. Given that they are owned by Walmart. But they also make good products that can be trusted. Like the CAMPROS tent, this is huge. With 140sq ft of floor space and 7ft of headroom, you should have no problem getting comfortable. It also has a removable room divider giving you the option of privacy or having a larger sleeping area. One odd thing is the description from the company says it fits 2 queen-size mattresses where the CAMPROS with less floor space claims to fit 3.
Like most large tents, it may take some time the first time you set it up. This is common with new tents and practice makes perfect. It is fairly heavy, definitely not a backpacking tent. But this could be a sign of the quality of the materials. Strong poles and thick fabric make for a heavier tent. It is, however, not waterproof. Most tents aren't unless you are paying an arm and a leg. The rain fly is water repellent and should keep you dry on the average rainy day.
---
Choosing Your Tent
Finding the right tent for you is very personal. Everyone's needs are different and that means everyone will look for different things in a tent. Think about the season and climate you are camping in. How many people will sleep in the same tent? If you have small children, will you need something that your family can grow into so you don't need to buy a larger tent in a couple of years? Ask yourself these questions as you research and the style and size you need will become clearer as you get close to making a choice.
The Advantage of 2 Room Tents
I have slept in many tents over the years. Some were small with barely any space, some large. One thing was obvious. There was no privacy. Even if you don't plan on separating the tent for sleeping, having that option is valuable. It provides a bit of privacy for changing clothes, or even if you want to have a separate place to put your belongings. Single room tents don't give you that ability. Any bags you bring with you in the tent are in the same place you are sleeping making the space cramped and uncomfortable. Portioning off an area just for sleeping eases the sense of the area being cluttered.
Tips For Using Your New Tent
Buying a new tent can be exciting. You'll want to get out and use it right away but there are a few things you should take into consideration first.
Know how to set up your tent. Practice at home if you can. This will make setting up easier when you get to the campsite.
Check the weather before camping. If you know your tent may not be great in heavy rain, make sure that weather will be nice on your trip or prepare accordingly by water proofing your tent.
Bring a tarp. Placing a tarp under your tent will help eliminate water coming through the floor. Most tents have thick floors but adding a tarp will further protect it.
Final words
Of the tents I've looked at, my favorite is the Coleman connectable tent. I like the modular design and the ability to add more if needed. The options for this tent seem endless. Like all the others it has its downsides but I am willing to compromise on those. I have two kids and the smaller tent would be perfect for them while my wife and I sleep in the larger section. Getting two tents for the price of one is also a nice addition. Compared to the other tents on our list I found this provides the best value for money. I just wish we had this tent on that family road trip when I was 8.
Keep Reading: