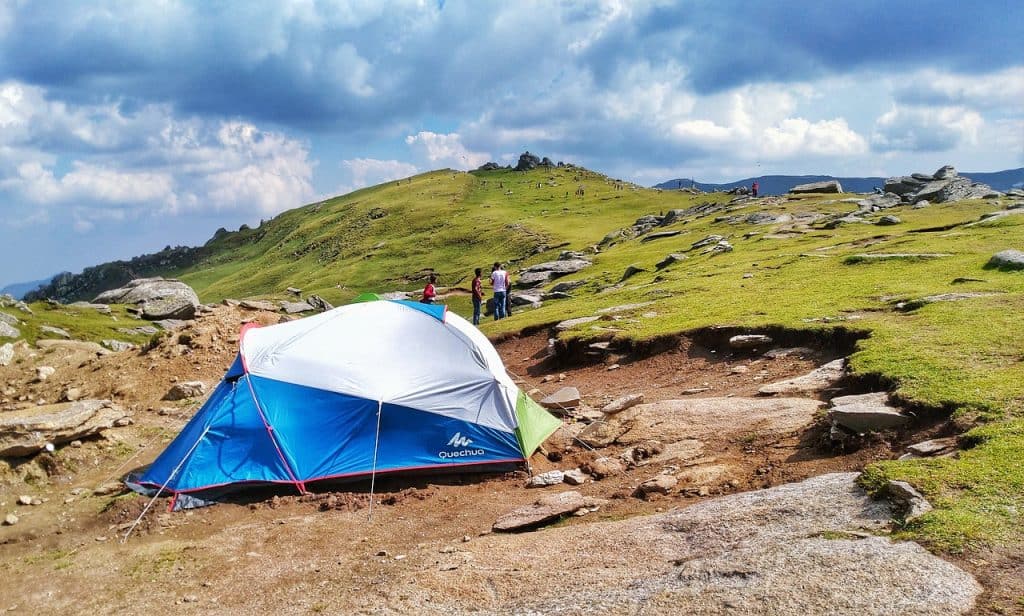 Camping has evolved from the time of our Eagle scout days when we just put up the old family tent and hoped for the best. One of the many improvements in camping gear is the blackout tent. Blackout tents, also known as dark rest tents or simply dark tents, are camping tents that keep the sun out.
Like many products on the market, it takes an informed mind to understand qualities they should look out for to help them make a good buy. That's where we come in.
I'm an avid nature lover. Camping out in the wild is one of my pet passions. This hobby of mine got me in contact with blackout tents. While I might enjoy being in touch with nature, I also want my early morning sleep. 
Camping in areas where the sun rose early or went to bed late, I found I had to get the necessary sleep. Seeking a solution to light sleeping led me to blackout tents. After many failures, buying several "dark rest tents" that turned out to be dark only in color, I decided to research what makes the best blackout tents.
The result of those hours of study is this ultimate guide to getting the best blackout tents for your camping needs. 
We aren't just going to review the tents. We will also discuss why you should buy darkroom tents and tips to follow when searching for your blackout tent.
All You Need to Know About Blackout Tents
First, let's get this out of the way. Some people have suggested that one of the DIY ways of turning your regular tents into a blackout is by painting them black or in dark colors. Another method people tell is adding another layer of dark fabric or material called a blackout liner.
While that might work in darkening the tent, you should know that there's more to a darkroom tent than reducing the amount of light that gets into the tent. The excellent ones are made from unique materials that couple temperature control with regulating sunlight.
The manufacturers use this particular material because black is a beautiful absorber of light and heat. When you paint your tent black or add a blackout line, there is a high possibility that your tent will be hot after a while.
Things to Lookout for When Buying a Blackout Tent
Before ordering your blackout tents, there are a few things you need to consider. Such blackout tents aren't good enough for any blackout tent that doesn't tick most of these boxes.
Cost
As much as we need the best darkroom tents on the market, price is also essential. Almost everyone has a budget they are working with. So the first thing you should do is look for blackout tents within your budget.
SPF Protection
Not to bore you with technical jargon, let's say your blackout tent should protect you from the sun's harsh rays. Sun Protection Factor, a.k.a. SPF, is the measure of protection the tent offers you while you are in it.
When looking for a blackout tent, check out that it has SPF protection. The higher the SPF rating, the lower the amount of ultraviolet light that gets into the tent.
Climate Control
It is essential for your blackout tents to have some climate control. If the blackout tents don't, your tent will overheat and become uncomfortable for you. Check through reviews to see if the blackout tent that catches your eye has climate control.
Light-blocking Strength
Depending on your preference, you can pick your blackout tent based on how much light it keeps out. The range of light blocks differs from the brand; some advertise up to ninety-nine percent light blocking.
FAQs About Blackout Tents
Let's tackle some of the questions you might have or that most people ask before getting their tents. I'll try to answer them as concisely and accurately as possible.
Are Blackout Tents Worth It?
It depends on several factors. If you are someone who enjoys afternoon naps while camping, or you are camping with your kids and need them to sleep in. I would advise that you get a blackout tent. 
Also, for your peace of mind during the night, getting blackout tents will keep out stray light beams from torches if you are camping on a public camp.
For first-time campers, getting a blackout tent is worth it. Some heavy-duty blackout tents filter out up to ninety-nine percent of the light that should get into the tent. If you are camping in humid regions, blackout tents will also be helpful.
With their climate control fabric and specially placed ventilation vents, the temperature in blackout tents can be ten degrees lower than the temperature outside. So you are comfortable in your tent despite the heat.
Yes, blackout tents cost more than ordinary tents. However, when you consider the advantages of camping (or glamping) in a darkroom tent, it's definitely worth it.
Are Blackout Tents Hotter?
No, they aren't. Most blackout tents use climate control materials that diffuse light and heat. They also use various ventilation techniques that ensure that the blackout tents are more relaxed than the environmental temperature. 
They are also definitely cooler than ordinary tents that have been blacked out.
Who Should Get A Dark Room Tent?
The answer is simple, anyone camping in the northern hemisphere. Up north, it seems the sun doesn't set until very late. Therefore, when you are camping there, you definitely need a blackout tent to filter out the light and let you sleep while the sun is up.
Also, if you are a light sleeper like me, consider getting a blackout tent. Blackout tents allow people to take an afternoon nap without sunlight filtering in for people camping with their kids.
If you are festival camping, you will need to sleep the hangover off. Look no further than a blackout tent. 
Finally, if you are camping in really hot regions like the desert, you need a blackout tent. Remember that perfect blackout tents are more remarkable than the environment that they are.
EVER ADVANCED is a new player in the tent industry, it is a German brand that was founded in 2017. Their products have a solid quality at a reasonable price.
The EVER ADVANCED blackout camping tent utilizing a cabin design that gives more inner space. With a center height of 6 '1″ (185.4cm), most people can stand inside without bent.
As a blackout tent, it has a dark interior fabric that keeps the sunlight out, moreover, it also has a layer of UV resistant coating(UPF+50), that blocks out the harmful radiation in the sunlight. With both layers of protection, you can get a dark interior if all the windows are zipped off, which gives you a better sleep if you don't want to wake up early in the morning or want a short nap in the middle of the day.
This is an instant tent that you can set up in less than 60 seconds, giving you more time to enjoy the wilderness.
There are big mesh windows on all the side walls that provide excellent ventilation. However, it doesn't have ground vents, this can be a little tough if you are camping on rainy days.
As you can see from the picture, the side window is not fully protected by the rainfly, so there may be leaks on the big rainy days. Also it doesn't have a ground vent, so we only recommend using this tent in small to moderate weather conditions.
The reason we recommend this tent to be the Best Overall blackout tent is because it has a balanced design, with great features and solid qualities. There is no perfect tent in the world, you can just pick the right one for your own scenarios.
Pros
Instant setup in 60 seconds
Blackout and UV resistant fabric
Good ventilation
Power channel and convenient storage functions
Spacious and portable
Cons
The Quechua 2 seconds XL Fresh and Black tent are the easy-to-use, lightweight, capable protectors against adverse weather blackout tents. The tent uses a popup setup; it pops up as soon as you unzip it. Hence the seconds in its name. There are two types, 2 person and 3 person. 
The 2-person model comfortably accommodates one person, while the 3-person one is suitable for two people. It has one of the highest light-blocking strengths. This tent is ideal for campers looking for a robust and lightweight blackout tent capable of withstanding brutal weather.
Pros 
Lightweight weighs about 3 kilos.

Strong enough to withstand 50mph winds.

It blocks out 99% of light.

Waterproof.

Very easy to set up.
Cons
At thirty-eight inches, its ceiling is relatively low.
Unlike other blackout tents, the Snugpak bunker 3 person tent doesn't employ fancy technology. Instead, the tent combines heavy-duty materials and dark colors to create a darkroom waterproof tent.
It keeps out the light, not as much as the other but well enough. Furthermore, there is enough space for up to three people. 
The tent is named the bunker because it is strong enough to withstand most adverse conditions and keep occupants safe.
Pros
The bunker is one of the lightest blackout tents on the market. It's easy for anyone to carry.

It accommodates up to three people.

It's stronger than most blackout tents. The Snugpak tent offers adequate protection against extreme weather conditions.

Waterproof.
Cons
It doesn't have sufficient light-blocking strength when compared to other darkroom tents.

The bunker doesn't stay as calm as some blackout tents on hot days.
You should still keep the Snugpak bunker on your shortlist for protection and comfort. You might want to reconsider when you think of camping in scorching areas. 
Coleman has become one of the leading manufacturers of blackout tents. I have to say, the Skydome is one of their best for the casual camper. The tent comes in three sizes for four, six, and eight people.
Here are some reasons you should consider any of the Skydome tents as your blackout tent of choice.
It incorporates blackout technology that keeps out about ninety percent of outside light. This technology ensures that your tent remains dark even during the brightest day.

Excellent ventilation.

You can use it no matter the season.

Has waterproof walls and floors.

Strong enough to withstand 35mph winds

Lightweight and easy to use.

Enough headspace for users and can accommodate more.

Multiple sizes to choose from.

Easy to setup.
The only con for the Skydome is that it might be a tight fit if you go with its capacity.
The Skydome had enough light-blocking ability. Its blackout tech means you are protected from harsh light, and it's pretty affordable. 
The Crua Outdoors Combo Maxx Tent is the answer for the hardened campers who love camping no matter the time of the year. The blackout tent handles all extreme weather during the four seasons like a champ and offers moderate light blocking.
The tent comes in two parts, the waterproof outer shell, and the inner cocoon. The inner cocoon is made from a unique insulating material that provides warmth in winter temperatures as low as twenty degrees. The cocoon also adds its light blocking and soundproofing capabilities. 
Pros
Capable in any weather.

The inner cocoon offers additional light blocking and soundproofing.

Powerful waterproofing abilities.

It has closeable vents to aid airflow.
Cons
It's a little bulky.

It's on the expensive side.

Not easy to set up. The cocoon needs to be inflated.

It can be a little tight for the recommended two people.
The bedroom area of the octagon has one of the intense light-blocking strengths on the market. It blocks out about ninety-nine percent of light from entering.
The octagon also has a ventilation mesh that runs around the outer walls of the inner tent. This window-like mesh allows you have an overall view of your surroundings. The octagon is the best blackout tent for your family camping. It's a large size, offering enough space for a normal-sized family.
Pros
100% waterproof

Large enough to at least sit ten people comfortably

Can withstand strong winds with any issues.
Cons
The octagon weighs about twenty kilos, which makes it quite heavy. In most cases, you might require a partner to carry the tent.

Due to its size, the octagon can't fit into a backpack. You might need a duffel bag to carry it.

While the wire mesh might offer coolness during a hot day, it doesn't protect against cold winds.
Conclusion
As discussed above, blackout tents do more than block out the light and allow you to sleep in the mornings. If you are a single camper and are thinking of getting a blackout tent from the five we have listed, I recommend you go for the Quechua 2 seconds XL Fresh and Black.
It's light enough to carry, blocks out a large amount of light, and is easy to set up. It doesn't hurt that its price is within the range of most blackout tents, either. The only drawback is its height. You should enjoy this blackout tent if you can overlook it short thirty-eight inches.
If you are camping with your friends or family for a larger party, you go for the Coleman Dark Room Skydome Tent. It's easy to set up, offers adequate protection from the weather, and blocks out the light quite well.
For the extreme camper looking for 4 season camping, Crua Combo Maxx is the only blackout tent to consider. Solid in all weather and soundproof to boot.