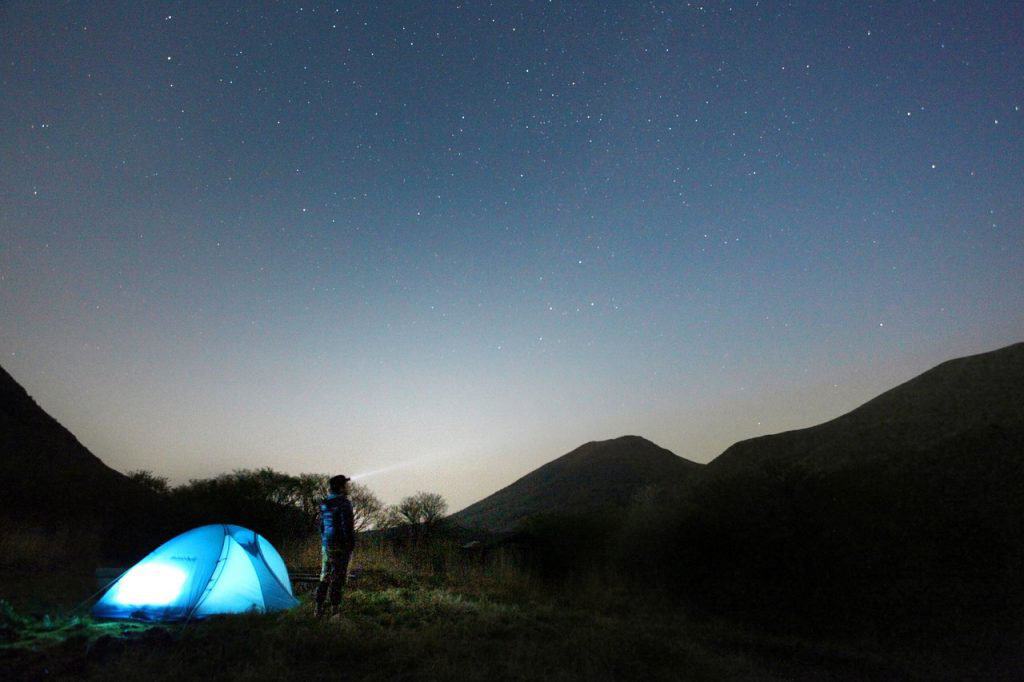 Anyone who enjoys camping or goes a couple of times a year knows that it can be a struggle sleeping in a tent. You have to work your way around finding flat ground to pitch your tent, keep bugs out, and ensure you don't get too hot or cold.
The best way to combat these struggles will be through the proper choice of gear and campsite placement. Your comfort is dependent on these things if you want to get a good nights' sleep.
Choosing the Best Campsite
The first thing to consider is where your campsite is and choosing the spot to pitch your tent. This can make a huge difference in how well you'll sleep during the night.
When summer camping finding a cool area to set your tent will prevent it from getting too humid and uncomfortable inside. Camping near water and in shaded areas is best for this. Face your tent door into the wind for the most ventilation at night.
For all-around comfort, you want to find the flattest ground possible to pitch your tent. Make sure it is away from widowmakers (dead trees or hanging branches), and that you are camping on a durable surface like dry grass, sand, rock, etc.
Picking the Right Tent
Several factors go into picking the best tent. You need to consider size, the season of the tent, and features like ventilation. 3-season tents are perfect for spring, summer, and fall because they are made with lighter, more breathable material. 4-season tents are best in winter because they are made with heavier-duty materials to retain heat and hold up against the snow and ice.
Then, there are camping tents that are made specifically for helping you to get a better night's sleep. They have features that most other basic tents don't, and they can make a world of difference if you struggle to sleep while camping.
Size of the Tent
Most campers will choose a larger tent than what they actually need. A single person might get a 2 or 3-person tent just for the additional space. Comfort-wise this can be huge. A larger tent will allow you to keep your gear inside and give you better options for bigger and better sleeping pads, cots, or air mattresses.
Windows and Air Vents
Air circulation is important when camping. Most tents trap hot air and condensation can form inside. This makes it very uncomfortable on warm summer nights. Having multiple windows, floor vents, and a mesh ceiling can increase airflow to keep you comfortable.
Tents With a Screen Room
These kinds of tents are perfect for summer and any warm-weather camping you do. Beating the heat in a tent is difficult because they trap all the hot and humid air inside.
A tent with a screen room will help prevent that issue. It offers extra space for sleeping and optimizes the amount of air circulation you get throughout the tent. It can also provide a bug-free zone that is ideal for lounging or letting younger kids play.
You can find tents with a screen room of all shapes and sizes. It is worth considering if you want the most ventilation so you can stay comfortable at night.
Dark Room Tents
Dark Room or Blackout tents are great for those that love to sleep in. The Blackout technology used in these tents is designed to block as much as 90 percent of sunlight. It is incorporated throughout the interior of the tent including the windows to keep the inside darker for longer. Even after the sun comes up you can comfortably sleep longer.
Best Sleeping Gear to Help You Get Comfortable
The next key piece of gear that will help you get the best sleep possible while in the great outdoors, is what you sleep on. There are a few options: sleeping pads, air beds, and cots.
Each one is able to cushion and insulate you from bumpy and cold ground. However, they all vary in thickness and how easy they are to travel with and set up. The kind of camping you do will have an impact on which padding option is best for you.
Sleeping Pads
Sleeping pads are most popular with backpackers. They are lightweight and can be hooked to the outside of your pack or folded up small enough to fit inside. Some sleeping pads are self-inflating through a valve you open and close. Others are made from foam.
They can vary in thickness, however, they are designed to be as lightweight and easy to carry as possible. They provide enough cushion to keep you off of the hard ground and prevent you from losing body heat due to conduction.
Air Mattresses
Air beds are ideal for campground campers. They're much bulkier and you need to inflate them with a manual or electric air pump. They can vary in size from twin to king and are far more comfortable. An air bed will provide ample cushioning that will have you completely lifted off the ground, and can feel more like you're in a regular bed.
Be sure to coordinate the size of your air bed with the size of your tent! Most tents will list how many and what size air mattresses they can fit.
Camping Cots
Cots are smaller than some air beds, but they can be heavier to carry out to your campsite. You don't have to worry about filling it up with air like an air mattress, you just unfold it and place it inside your tent. They are made for just one person so you can have multiple cots fitting into a tent.
Camping cots are a great option so you can stay off the ground entirely, and you can put any additional padding and blankets on your cot as needed.
What About Sleeping Bags?
Your sleeping bag is not only there to keep you warm, but to offer additional cushioning. Choose your sleeping bag based on the kind of weather you'll be camping in to make sure you don't get too hot or too cold. Summer sleeping bags are much thinner than winter sleeping bags, some of which are graded for negative temperatures.
Your sleeping bag will provide insulation from the ground, so it is still an important piece of gear to bring in the summer.
In Conclusion
Sleeping in a tent can be tricky because no matter what you are still going to be on the ground. If you follow the tips above and find the right combination of gear that works for you, you'll find your nights to be much less restless.
Remember to camp only on durable surfaces and to have proper cushioning to prevent conduction through the ground. Air circulation in warm temperatures is key so that heat doesn't remain trapped. You can always face your tent into the wind to help with ventilation too.
These are the keys to your sleeping success on your next camping trip.