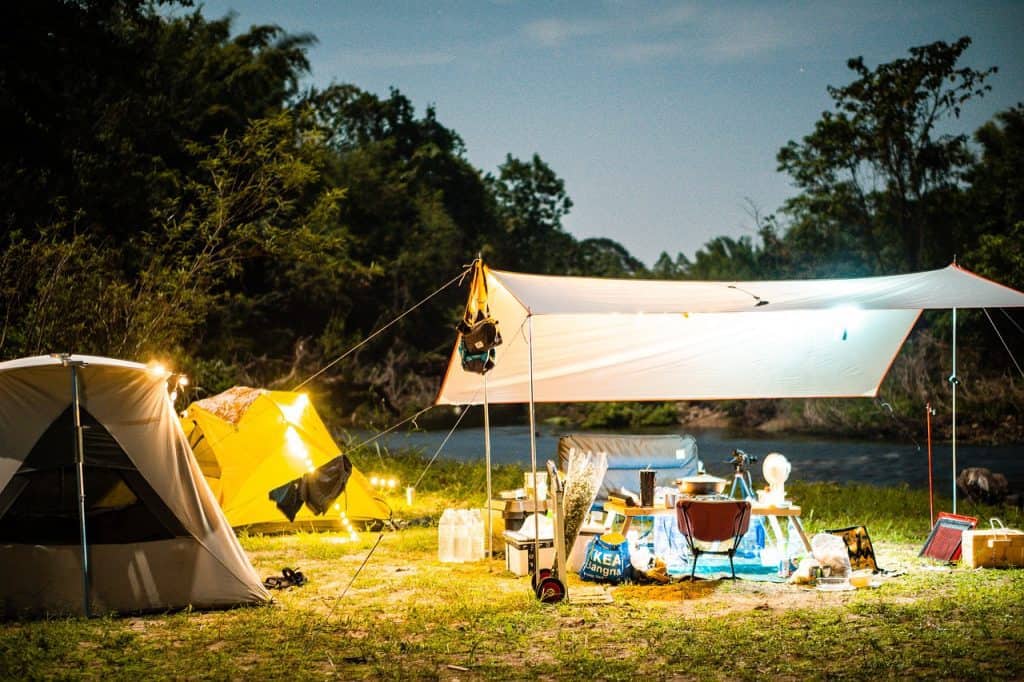 Need an enormous tent for group camping or a big family trip? You're right where you should be. The warm and cozy experience you get at your spacious multi-bedroom home can as well be replicated under these tents in the outdoor environment.
This comprehensive review will help you find the top 4 best 14 person tents that will give you value for your money. These tent types feature maximum living space, making you feel like you are in your own home.
While testing and reviewing various 14 person tent models, we found Fortunershop Family Cabin Tent to be the best overall option. What I like most about this tent is its spacious floor, exceptional layout, and easy to set up process.
But that's not all about the best 14 person tents. You'll need to read on to find out more about other equally great tent options and a detailed review of each. 
I will also guide you on choosing the best 14 person tent considering several factors. First, here is a sneak peek of our best 14 person tent list:
Fortunershop 14 Person Family Cabin Tent – Best Overall Tent
Ozark Trail Base camp 14-Person Cabin Tent – Also Great
Tahoe Gear 14 Person Cabin Tent – Best Multi-Room
Playdo 4-Season Waterproof Cotton Canvas Bell Tent – Best Canvas Tent
How to Choose the Best 14 Person Tent
Before we dive deeper into this 14 person tent list, here are a few things to consider when shopping for your 14 person tent:
Durability and Waterproofing
A high-quality tent is capable of keeping rainwater out and serving you for the longest time. You don't want a tent that easily wears and tears and water leaking inside the tent as you sleep. 
Other features to consider under durability include reinforced windows, robust two-way zippers, and reinforced floors. Some best tents offer a separate space for taking off footwear and shoes before entering the rooms for sleeping.
Compartments, Doors, and Windows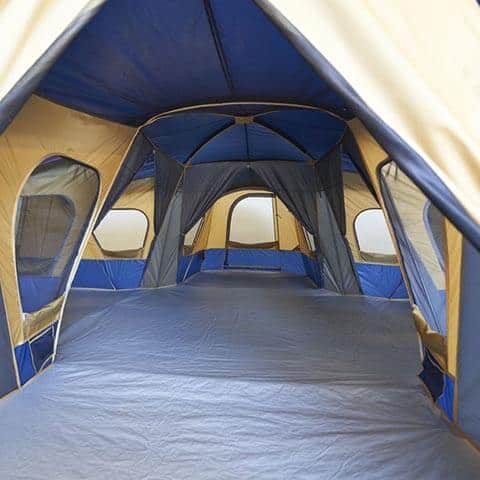 If you're looking for the ultimate comfort of each camper, always go for a large tent with numerous rooms. It helps enhance privacy, comfortability, an element of isolation, and promotes better sleep.
Additionally, a tent with more windows will have better ventilation, enhancing airflow. Through this, you can maintain a cool temperature inside the tent.
Likewise, a single door in a large tent makes it challenging for campers to move around and even weaken the tent. 
Therefore, ensure each room in the tent has its entry/exit, or at least the tent has two separate door openings to maintain order.
Storage Options
You may want to consider a 14 person tent that gives you numerous options for storing your gear. A good one will have several storage spaces at the entrance to give users the peace of mind that their valuables are safe as they sleep. 
Storage space is a crucial factor to consider, especially if you're going camping with a large group of people, some of whom you don't know very well.
Other designs include small wall pockets that give you the ability to store necessities like glasses or phones, in a much organized way without worrying about messing it up on the ground.
Assembly
The camping tent you choose should be easy to set up, probably with one person. Avoid those with complicated assembly processes as you may fail to arrange them correctly. You may also compare weight and size to see which one best suits your camping needs.
Tall Headroom
A tent with a high ceiling will enable campers to move around comfortably without bumping their head, especially for tall people. Ensure that the one you choose accommodates everyone in terms of height.
Best 14 Person Tents
Fortunershop 14 Person Family Cabin Tent – Best Overall 14 Person Tent
Specifications:
Occupancy:

14 persons

Item dimensions:

20 x 20 x 6.5 feet

Weight:

53.7 pounds (24.38 kg)

Height:

78''

Maximum number of rooms:

4

Best for

three camping seasons for large groups
This spacious cross-shaped tent features four large rooms, with each room having its entry/exit. You can divide the family into smaller groups to fill the compartments for maximum comfort.
The entry/exit in each room minimizes disruptions, enabling campers to enter and leave the tent without waking up the entire group. The feature also encourages people to move around the tent in an orderly manner.
But if you prefer one large room instead of separate rooms, you can still tie back the room dividers to create a single broad space.
Fortunershop 14 Person Family Cabin Tent further has 12 mesh windows and a roof for enhanced airflow. It helps you maintain a cool temperature within the tent, which might be a better option for warm weather.
The mesh on the windows helps keep bugs at bay, making it even a better choice for summertime camping. Its center area offers space for storage and group gatherings.
For the most part, the camping castle holds up well during the rainy season, thanks to its sealed seams. The tent may inhibit all the water from flowing inside the tent if it is lightly raining. However, I advise against using this tent during heavy rainfall as the excess water may start to leak in.
Despite the numerous compartments, it is easy to put up the tent. It might take you a little longer for the first time, but once you master the process, you may spend less than 20 minutes to have your tent up and running.
Pros
Ideal for warmer months

Roomy interior, apportionable into four bedrooms

78- inch ceiling and 400 feet

2

ground area

20-minute, quick setup process
Cons
Not ideal for cooler weather or during heavy rainfall

Fails to retain heat longer
Ozark Trail Base Camp 14 Person Cabin Tent – Best Space Efficient Tent
Specifications:
Occupancy:

14 persons

Item dimensions:

20 x 20 x 6.5 inches

Weight:

49.3 pounds (22.38 kg)

Height:

78 Inches

Maximum number of rooms:

4 Rooms

Best for

three-season camping and hiking
If you are looking for a spacious, 4-roomed tent with large windows for natural lighting and ample headroom, the Ozark Trail Base Camp Tent might be what you need.
This 14 person tent offers a hub-style layout with four wings spreading from the center. Three of its partitioned wings have built-in room dividers, while its largest fourth room consists of a central hub and the fourth wing.
Each room provides a zippered exterior door for added privacy and ease of movement. The tent further features two mesh windows, a mesh section at the door, and mesh panels at the roof for better ventilation and a scenic view at the starry night.
When you need to keep your items organized with convenient access, this family cabin tent got your back with several storage features. It includes a clip-in gear loft, four wall pockets, media pocket, two gear hammocks, and section pockets for easy storage and access to small essential items.
It also features an e-port for easy access to electrical cords, which might come in handy when you really need to power your camping appliances and charge electronics.  
Pros
Added storage space at the entryway area

The 78-inch ceiling offers ample headroom

Mesh windows doors and roof for maximum ventilation

Easy to set up
Cons
Rainfly does not cover the windows, allowing angled rainwater to get into the tent.

It may become too crowded if there are more than two people.
We also have a dedicated product review for this ozark 14 person cabin, you can read it for further details.
Tahoe Gear 14 Person Cabin Tent- Perfect Choice for Family Camping  
Specifications:
Occupancy:

14 persons

Item dimensions:

17.5 X 7.8 X 25 feet

Weight:

61.9 pounds (28.08 kg)

Material:

Polyester and Fiberglass

Maximum number of rooms:

3

Best for

camping and hiking
What sets the Tahoe 14 Person Cabin tent apart is its water resistance of up to 1000mm, all thanks to its durable polyester fly and the polyethylene binding floor. This feature makes the tent an ideal option for warm and rainy weather.
Another feature that I like about this tent is its mesh windows. They enable cool air to circulate through the tent, keeping the entire family comfortable during warmer weather.
You can also divide this spacious tent into three rooms, enabling every group member to have a comfortable privacy space for sleeping.
Since its ceiling is so high, the tent may be a perfect choice for elevated beddings. Therefore, you may not have to worry about bumping the top of your head when walking inside the tent. It is very useful for taller people.
However, the extra height may not hold up against powerful winds. But you can reinforce it by using more stakes or natural blocks such as shrubbery and trees.
Luckily, its poles are durable, with the tent's body having steel poles and its roof shock-corded fiberglass poles. All the other materials are polyester with taped seams for maximum protection.
Pros
1000 mm waterproof rating

Offers a screen room plus other three rooms

Perfect for cots

Ideal for warm and rainy weather
Cons
Unsuitable for cooler weather
Playdo 4 Season Waterproof Cotton Canvas Bell Tent – Best for Outdoor Camping
 Specifications:
Occupancy:

14 persons

Item dimensions:

9.8 x 9.8 x 8.2 feet

Weight:

42.4 pounds (19.23 kg)

Material:

Cotton

Maximum number of rooms:

1

Best for

four-season camping and hiking
There is a lot to love about Playdo 4 -Season Waterproof Cotton Canvas Bell Tent. And one of the features that I like the most about this tent is its power cable inlet at its sidewall. The power cable's length is 5.9 inches (15cm) and comes in handy when you need to power your camping appliances, like an air conditioner or camping fridge.
The tent further features a 300gsm cotton fabric, which is waterproof treated and has taped the stitch seam. It enables the tent to resist moderate wind, light, snow, and even rain.
It's zippable windows and top air vents, fitted with nets, enhance airflow within the tent, making it breathable. You may also roll up the cabin tent's wall to enable a cool breeze to blow during summer days.
Another good feature is the wood-burning stove vent at the top of the canvas yurt tent and not its sidewall. You can also cover the stove hole using durable straps when you no longer need it, making it an all-season tent.
Pros
Features a carry bag for packing all the accessories

Zippable windows and top air vents enhance airflow in the tent

Waterproof and heavy-duty cotton fabric

Power cable helps charge camping electronics and appliances
Cons
Not ideal for larger groups in need of added privacy because the tent doesn't have separate rooms.

It may be overcrowded if the group consists of more than two individuals
Conclusion
With all said, Fortunershop Family Cabin Tent remains our top pick in this roundup, no doubt. The tent is quite simple to assemble and takes about 20 minutes to put it up and functional. It further offers four large separate rooms, each having its entry/exit opening to maximize convenience.
Furthermore, the tent has 12 mesh windows and a roof for better ventilation and enhanced airflow. Its center area provides enough space for storing group items. Generally, the tent is highly durable and can withstand most moderate weather conditions. I would always recommend it to everyone in need of a 14 person tent.
Keep Reading: