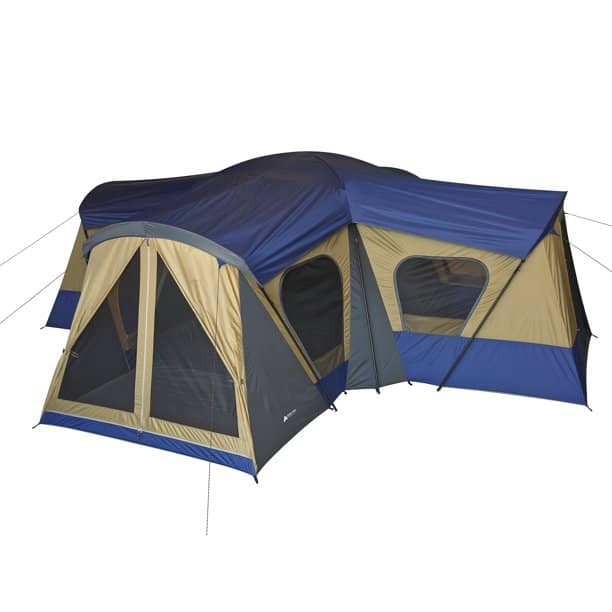 Many people don't know that Ozark Trail is a Walmart owned private brand, due to the massive volume of production, the price can be relatively low, thus offering good enough quality at a decent price.
The Ozark Trail Base Camp 14-Person Cabin Tent is really a huge one, it has enough space to hold a large group of people with a cabin design that makes you feel like staying at home.
Last week we spent a few days researching and comparing every detail of the tent and came up with this review, hope it may give you some help.
Let's get started.
Who is it for & Is it worth to buy
This is a huge tent for a big group of people or large families, you can use it for outdoor camping or backyard camping. The big space and cabin design makes it look like small human houses, which feels good when living in, especially if you want camping out more than a few days, it offers a comfortable experience.
The flexible room dividers can split the inner space into separate independ rooms, if you camping out with kids or different sex groups of people this is a great feature for privacy. If you don't want it just remove the divider and will get more single spaces.
However, the setup process may take about 20 minutes or more, if you think this is too long, probably an instant setup tent is a better choice for you.
Among other large tents of the same size, we think the Ozark Trail provides great value with a low and affordable price.
Pros
Big space
Livable cabin style
Flexible room design
Affordable price
Easy setup for such a size
Small packed size for portability
Cons
Can't withstand extreme weather conditions
No floor vents
Let's take a closer look.
Features & Details
Huge Space
It has a total inner living space of 235 ft2 (21.8 m2), this is huge for a normal camping tent. However, For a 14-person tent, each one shares an average 16.8 ft2 (1.6 m2), which is a little bit crowded if you really put that many people inside.
For comfortable we recommend camping out with 8~12 people, with 2~3 people distributed in each room. You'll find it's very spacious and convenient.
You should already note that the walls are steep like normal houses, this design is called cabin-style or cabin tent, which gives more space for the inside and makes you feel like living at home.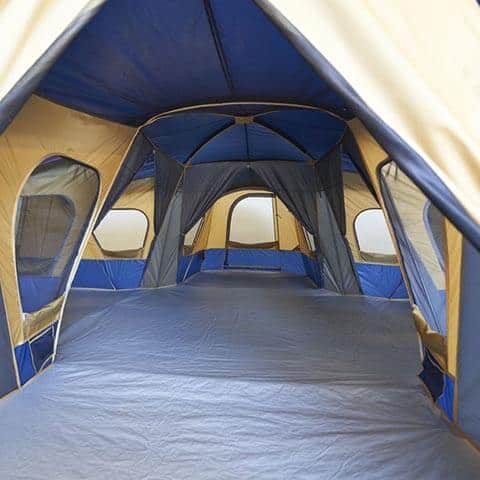 Height
The central height is 6'6''(198cm), with the cabin design, it's almost as tall even in the corner, this is enough for normal people standing up freely.
Weather Performance
The tent comes with a rainfly, as you can see in the picture. It adds more protection on rainy days.
All the windows and doors have a double-layered design with mesh outside and a panel inside for water protection. This is a waterproof design, although we can't find an official waterproofing rating.
However, this is a very large tent, the walls are steep, the large mesh windows are not fully covered by the rainfly, which makes it vulnerable in extreme weather conditions.
On windy days, the steep walls may be vulnerable too. but it depends on whether you stake it out firmly. We don't recommend using it in gust wind conditions either.
In total, it only withstand mild to moderate weather conditions. Don't expect too much in a harsh weather condition if you are not fully prepared.
Ventilation
The 12 big mesh windows distributed on each of the rooms gives it very good ventilation on hot summer days. The roof of the tent is full of mesh, which is protected by the rainfly, has a small gap between it to make a good air flow.
All of them give excellent ventilation, however, on rare conditions like rainy days when all the windows are zipped off, the inner can be damp due to the lack of ground floor vents.
X shape design
There are five sections, with one in the center and four in each corner that forms a cross shape design. The four rooms located at the corner look like entrance rooms in each direction, with an individual zipped door on each of them.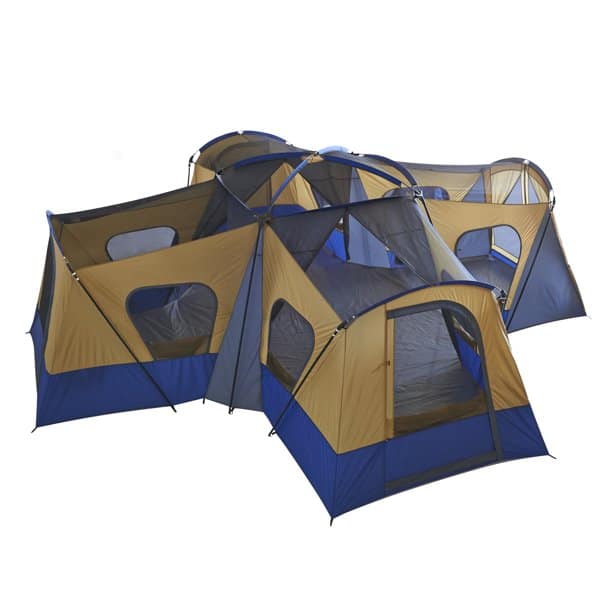 You can use the inner space as a whole, or can use the room divider to split them into four individual rooms. The divider can be tied back to make entrances between rooms that form a large single room.
Each of the five sections is large enough to hold a queen-sized air mattress.
One thing we should point out is there are only 3 sewn-in room dividers, leaving out one corner room connected directly with the central that acts like the main entrance room. This means you have a total of 4 rooms with a big one plus 3 smaller ones instead of five same sized rooms.
This design offers great privacy and flexibility of space usage.
Pools
The 12 main poles are made of steel, and the top 10 roof poles are using fiberglass, this combination provides both durability and firmness with architectural stability.
As we can see in many cheap tents, they use fiberglass pools to minimize the material cost. This tent's 12 main steel pole design means they care a lot about total product quality.
Storage Pockets and E-Port
Many tents have wall pockets for you to store necessities like phones or glasses, this tent has the design too. It provides a gear loft and two gear hammocks for all your gadgets, and a few small pockets on the walls.
The E-Port provides easy access to extension cord, if you are camping near civilization areas or in your backyard this is very useful.
Plus, at the center of the tent there is a lantern hook.
"Camping Castle"
From user feedback, some of them describe this tent as a 'Camping Castle', we think it is very appropriate and vivid.
Portability
Although it is a huge tent, It can be put into a small carry bag for portability. The Dimensions of the bag is 28.5″x16″x11.5″ (72.4 x 40.6 x28 cm), it is even smaller than a normal luggage.
The weight is 49.74 lbs (22.6 kg), for a large tent this is not heavy, but still too weighty for a person to carry for backpack camping. You'd better use it for car camping.
Price
We were astonished when we first saw the price label, for such a huge tent with a good quality the price is low and very competitive. However, due to different time and season, different stores, the price may vary from the time we write this review.
By all means, This is a budget friendly tent, with no compromise on quality.
Set Up Process
The average setting up process takes about 20 minutes as they claim, it may take up more than half an hour if you are not familiar. The more experienced people can do it in less time.
Due to the huge size, the setup time is pretty reasonable, actually according to feedback a lot of users think it was very easy to set up.
Here is a video showing how to set up the tent.
Specifications
| | |
| --- | --- |
| Weight | 49.74 lb (22.6 kg) |
| Capacity | Up to 14 people |
| Season | 2 or 3 Season |
| Package Dimensions | 28.5″x16″x11.5″ (72.4 x 40.6 x28 cm) |
| Total Floor Area | 235 ft2 (21.8 m2) |
| Area per person | 16.8 ft2 (1.6 m2) |
| Peak height | 6'6''(198cm) |
| Rainfly | included |
Frequently asked questions
Can I use this tent in winter and does it withstand snow?
This tent is designed to be a warm season tent, you'd better avoid using it in the cold season.
The walls are thin nylon, it may help repelling the rain, but will not hold much warmth.
The roof is flat and thin, snow may accumulate on top of it, and becomes heavy enough to even crack the tent down. For snow camping steep wall design is not a wise choice, you should take a look at the dome shaped one.
Can one person set it up easily?
Yes, although it takes more time, it is possible for one person to set it up.
Is the rainfly removable?
Yes, you can remove the rainfly, but the roof of the tent is full of mesh that is not protected from rain.
However, it also means the roof has a clear vision, some users took off the fly and slept under the stars at night. This is a fantastic experience, we recommend you take a try.
Conclusion
The Ozark Trail Base Camp 14-Person Cabin Tent is a really huge, affordable tent. No matter if you are using it in outdoor camping, or put it up in your backyard for the kids to play in, it always gives you a spacious room and pleasant living experience.
The only complaint is it does not work well in extreme weather conditions, however, this should not be a big concern in most scenarios.
The price is really a highlight, we seldom see such a low price for a tent of the same large size.
---
Keep Reading: