Coleman is a big brand that produces outdoor recreation products, especially camping gears. Their sundome series tent is very popular among all other competitors, it is even the #1 best seller of camping tents in several online stores.
The popularity gives us the motivation to spend days researching and comparing, take a closer look into the tent, and give you a detailed review covering almost everything about the Coleman sundome 6-person tent. we hope it may give you some help.
Let's get started.
Who is it for & Is it worth to buy
If you are in a hurry, here is a short summary.
This is a fantastic tent to take the family out for the weekend during warm weather. It is spacious, has plenty of headroom, and performs well in moderate weather conditions.
It has a solid quality, easy to carry, offers a lot of features, and the price is affordable.
The total weight is 16.3 lb (7.4 kg), it is a little heavier for backpack camping, you'd better take it for your car camping trip.
The ventilation is good, the set up process is easy and quick(less than 10 minutes).
This is not a cold weather tent as it does not hold heat well due to the breathable design.
Pros
Great value for money
Excellent ventilation
Good weather performance
Easy setup
Storage pockets and E-Port design
Small packed size for portability
Cons
Not for extreme weathers
Only one door
Let's take a closer look.
Features & Details
Space & height
It has a floor area of 10×10 ft (3×3 m), which is big enough to fit two queen size airbeds. However, For a 6-person tent, each one shares an average 16.7 ft2 (1.5 m2), which is a little bit crowded if you fit 6 adults into it.
If you want comfort, we recommend camping out with 4 people, or 2 adults with 3~4 kids.
The central height is 6 ft (188 cm), a normal adult can stand up freely. But for tall people this is not high enough.
It is a good choice for families, the space is just enough to hold them all.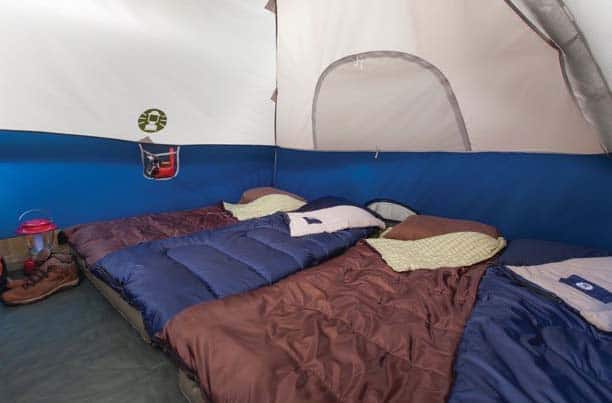 Doors & Windows
There is a D-shaped door located on the front of the tent and protected by the awning. However, for a 6-person tent the one door design is not enough, we should expect more for such a size.
There are 2 big mesh windows, one is located on the front door and the other is on the opposite wall. It is enough for ventilation. The window is double-layered and can be zipped off.
Note the roof is screened and big, it gives you a great view at night if you choose to sleep without the rainfly.
WeatherTec System
Coleman's patented WeatherTec™ System is a series of technology and small enhancement that makes the tent perform better in bad weather conditions without the increase of the budget.
It is mainly utilizing detailed designs like welded corners and covered seams that keep water out so campers and gear stay dry.

This technology is commonly used in many of Coleman's tents, it actually works a little better among other rival tents in several weather conditions.
Rain
The window is not so big and is well designed, as you can see from the picture, the tent comes with a rainfly that protects the top of the tent and the main part of the mesh window. The water may flow away from the tent without passing through the vulnerable mesh area.
It performs well on rainy days. However, that is to some extent, you should not  expect too much. This tent can withstand mild to moderate weather conditions, but may not work well on storm days.
The fly is not big enough to cover all the tent, so the water may flow to the ground and soak into the floor. This is not a big problem in small rains because the bathtub designed floor works well to prevent all of the moistures seeping in. but in the storm days the water accumulates like a flood that nothing would stop it.
Snow & cold weather
This is not a cold weather tent, as the fabric is not thick enough to hold warmth. But the dome top design gives it a good chance for snow days. As for the flat top tents snow will accumulate and eventually become very thick that even cracks the tent.
Although we don't recommend it, but if you are well prepared with proper clothing this tent can be used on snow days.
Wind
As a dome tent, it works better than cabin style tents on windy days. The poles and frames are well designed and more wind-responsive. This is one of the key features in Coleman's WeatherTec System.
According to the official claims, if it is properly staked out, the tent can withstand 35 mph winds, which is very rare in many recreational campings scenarios.
Ventilation
This sundome tent has two big mesh windows, the roof which is protected by the rainfly is full of mesh, this forms a very good air circulation.
There is also a ground vent, this can provide additional air flow when all the mesh windows are zipped off.
As you can see that the windows are all covered by the rainfly, even on rainy days you can keep them open to let the fresh air flow through.
All in all, it has excellent ventilations.
DarkRoom(Sunlight Blocking) Technology
If you are camping in the hot summer on the beach, you may find the sun is very annoying and even hurt your skin.
The DarkRoom technology can help in this type of situation. It is implemented by a special coating that blocks 90% of sunlight. This reduces the heat in the tent and makes the room darker. Together with the good ventilations, you can expect a cooler and comfortable inner space.
Since the room is much darker when all the windows are zipped off, it is also useful when you don't want to get up earlier in the morning or want a little nap in the middle of the day.
Storage Pockets and E-Port
There are two mesh pockets sewn into the wall that keeps your small gear organized and off the floor, you can store essential items like phones or glasses within easy reach.
E-Port is an opening that lets you bring an extension cord through that enables you the capability to easily access electrical power inside your tent. It is very useful if you are camping in the backyard or near civilizations.
Portability
The pack size is 27 x 8 inches (69 x 20 cm), it is small enough that you can even travel with it by a motorbike.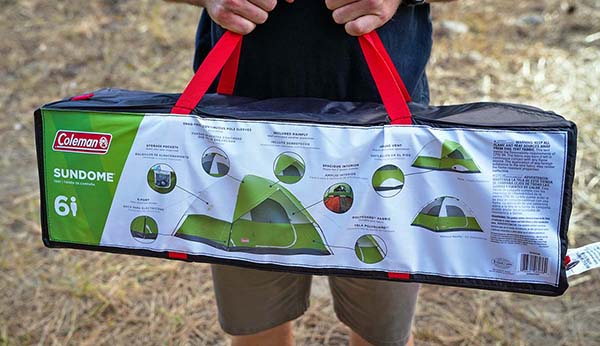 The weight is 16.3 lb (7.4 kg), it is very heavy for backpack campings, and we recommend you take it with a vehicle when camping out.
Also to note, the carry bag is durable and expands with a rip-strip for extra storage space.
Price
The price is very competitive, it is affordable but offers great features and good quality. As a big brand, it is very attractive. This is why the sundome series is so popular and becomes the best seller on the market.
Set Up Process
Coleman claims that this tent can be set up in 10 minutes, according to our test, this is achievable and even can be faster. However, if you are not familiar with it the time can be longer even as double for the first try.
The setup instructions are sewn into the carry bag, it is handy for your reference. The poles are color coded in order to avoid mistakes. Snag-free, continuous pole sleeves design makes it even easier to set up.
Here is a video showing how to set up the tent. Note the tent they are using is not the 6-person one, the sundome series has the same design so it works the same.

Specifications
| | |
| --- | --- |
| Best Use | Recreational Camping |
| Weight | 16.3 lb (7.4 kg) |
| Capacity | Up to 6 people |
| Season | 3 Season |
| Package Dimensions | (L x D): 27 x 8 inches (69 x 20 cm) |
| Total Floor Area | 100 ft² (9.3 m2) |
| Area Per Person | 16.7 ft² (1.6 m2) |
| Peak height | 6 ft(183cm) |
| Rainfly | included |
| Freestanding | Yes |
| Doors | 1 |
| Windows | 2 |
Frequently asked questions
Does it have a lantern hook?
Yes, there is a lantern hook on the center so you can hang the light or other things.
Can one person set it up easily?
Yes, it is easy to set up for one person. From the user feedback, even a 68 year old woman can do it alone. Just follow the instructions step by step.
Stakes Included?
Of course, it comes with everything you need. Don't pay for anything extra!
Conclusion
The Coleman sundome 6-person tent is a well designed, affordable tent. It offers a lot of great features with solid quality at an affordable price, no doubt that it has high ratings in many online stores.
It is a good choice for the value of money. It is so popular that it even became the best seller on the market.
If you are buying a tent for the first time, we recommend the Coleman sundome series because it has endured and stood out for years in the competitions on the market.
---