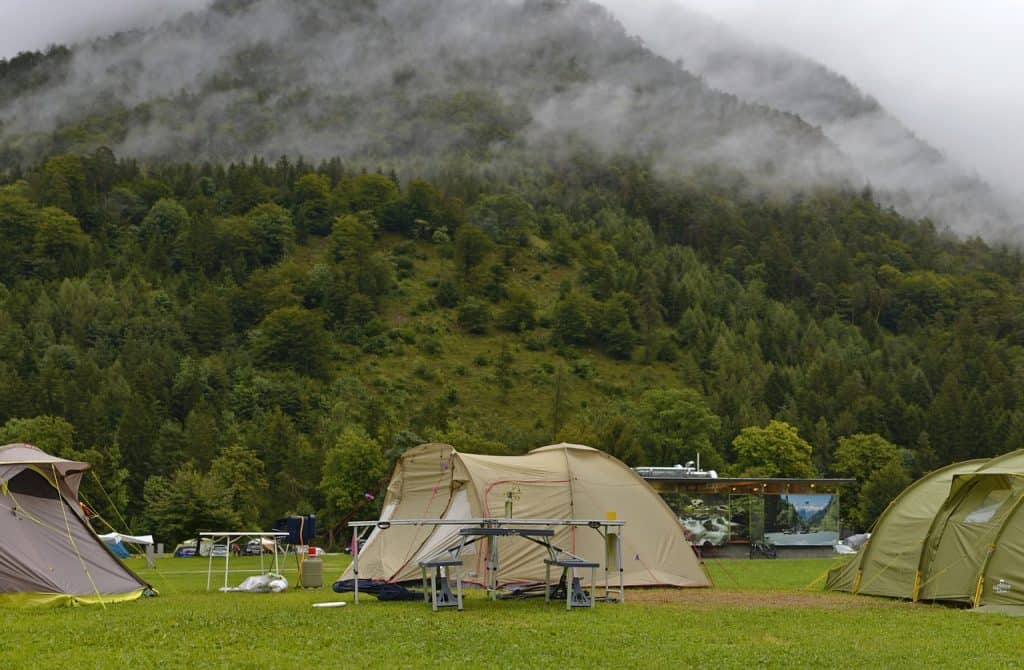 As the name suggests, a tunnel tent often has a long tunnel-like shape with several rooms, it is spacious and a good choice for family or groups.
It is not a strictly defined type, many tents on the market with a tunnel like look can be categorized as tunnel tents. It is hard to distinguish the good ones from such a crowd.
We spent a whole week researching and comparing a lot of them on the market, and came up with a few that we think are of good quality and worth a try. Hope this review may offer you some help.
If you are in a hurry, here are our recommendations.
---
Best insulated tents compared
Pros
Spacious
Double layer
Easy setup
Removable room divider
Wall pockets, E-Port and lantern hook
Good ventilation
Cons
Can't withstand extreme weather
This is a roomy tent with a floor size of 14 x 9 ft (), which is large enough for 8 sleeping pads or 3 queen size air mattresses. It would be spacious and comfortable for 6 adults.
The double layer design keeps the tent cool in the hot weather and warm in the cold, blocks away sunshine and keeps the inner space dark, which is very good if you don't want to get up early in the morning.
The fabric is durable, made with 185T polyester, and a special coating layer. it guarantees PU1000mm water-resistant that stays completely dry under mild rain. The main entrance is protected by the rainfly with an awning, avoiding leakage from the door on rainy days.
The setup process can be done in less than 5 minutes with 2 people, it is considerably easy for such a large tent.
The ventilation is excellent, the large mesh door and five mesh windows gives it a good air flow, the roof is full of mesh and protected by the rainfly, and provides additional air circulation.
You can use the inner space as a big tunnel room, or use the curtain to split it into two separate spaces. The pre-included curtain is flat and removable. An interesting usage is you can project videos on the curtain at night, which is a favorite of many kids.
Mesh pockets, E-Port, lantern hooks are all included. The pack size is small and portable with a carry bag.
This is a good choice with a lot of great features, and a competitive price.
---
Pros
Spacious
WeatherTec™ system
Angled window
Porch / awning
E-port and lantern hook
Cons
Can't withstand extreme weather
As a big brand, Coleman always delivers quality tents with a lot of great features. The 8 person montana cabin tent is a best seller of their product line, and the ratings on amazon is quite high.
This is a three season tent, large enough to accommodate 8 sleeping pads, spacious for a large family with 3 or 4 children.
With Coleman's  patented WeatherTec™ system and the rainfly, this tent is pretty good in mild to moderate weather conditions and helps you stay dry. The strong frame is tested to withstand 35+ MPH winds. However, don't expect too much on extreme days like rainstorms, as we see some users complain about leakage in such cases.
The angled windows design makes it possible to keep it open in the rain allowing extra air circulation, giving it good ventilation. but it would be better if they add more windows.
The hinged door is a highlight design seldom found on other tents. It would be a great convenience if you are camping with children, just like a normal door pushing in and out, no need to deal with the tedious zippers, which kids often stuck or broke.
The door is guarded by a porch for additional weather protection, gives you more space to store your gears, and can be used as a shelter from sunshine in the open space.
The e-port design gives it the ability to bring electric cord through without water leakage and bugs. This is a good feature if you are camping in your backyard or in a campground near civilization.
There are wall pockets to store your necessities such as phones or glasses, and also a lantern hook at the top center of the tent.
All in all, this is a solid tent, an exemplary demonstration of Coleman's balancing art at quality,feature,and price.
---
Pros
Budget friendly
Spacious and tall
Lightweight
Easy setup
Great ventilation
Outbound is a small brand that offers affordable camping products. This 8 person tunnel tent has a dome like design that is high enough(6'6''ft) for an adult to stand up inside freely. It is spacious, you can accommodate 3 queen size air mattresses inside easily. The inner space is a whole tunnel without room dividers, a little inconvenient if you want more privacy.
It is designed for warmer seasons, the top half of the tent which is protected by the rainfly is full of meshes, resulting in excellent ventilation.
The fiberglass "Easy Up" technology makes the setup process a lot easier, one person can do the job quickly.
The weight is 17lbs(7.7kg), with a zippered duffle bag pre-included that you can carry it with ease, the lightweight makes backpacking possible, however, we recommend car camping if you don't want to sweat.
It can sustain mild to moderate rains, with a waterproof rating of 600mm. welded leak proof seams and polyester bathtub floor are built-in to keep water out of the tent.
The price is very competitive and budget friendly. It is a good choice for such a lot of features and a great value for money.
---
Pros
Spacious
Excellent ventilation
Easy setup
Double layered rainfly
Removable curtain
Mesh pockets and E-Port
Cons
Can't withstand heavy rain
This is a spacious tent that fits in 10 sleep pads or 3 queen size air mattresses, it is comfortable for 6 adults. A divided curtain is included to divide the inner space into two separate rooms, which will provide you more privacy if you are camping with kids, it can be removed if you want a single large space.
The waterproof rating is PU1000mm, which can withstand mild to moderate rains well. Unlike thin popup tents, the thick and sturdy polyester fabric with long nails at corners make it stand well in the wind. The rainfly is double layered, provides more heat resistance and keeps it cool in the hot summer.
Although it is not an instant tent, the setup process is quite easy, the poles are color coded,one person can make it in less than 10 minutes on the first try, when you are familiar with it the time can be 3 to 5 minutes, for such a large traditional tent this is quite impressive.
The E-Port helps you let a electric cord come through without worrying about leakage and bugs, this is very useful when you are camping in your backyard or in a campground with electric access.
There are two mesh pockets in the tent, sewn into the walls gives you a place to stash your small, important items in these easy to reach storage. It also has a lantern hook at the center of the tent.
It has four mesh windows, and the top ceiling which is protected by the rainfly is full of mesh too, the air circulation should never be a problem at all.
---
Pros
Spacious
Screen Porch room
Good ventilation
E-Port and wall pocket storage, lantern hooks
Removable room divider
Cons
Not so good for heavy rain
This is a spacious tunnel tent, you can easily fit 3 queen size air mattresses inside, great for a family of 4-8 or a group of friends. It also has a removable divider curtain that can split the inner space into two separate rooms, it's useful if you are camping with kids and want more privacy.
There is a screen porch room at the front door of the tent, which can be totally enclosed, offers ventilation on hot days and protection from bugs, gives you additional space to store gears, or sit with good view and air flow without sunshine and bugs.
Big mesh windows are located on the wall for better ventilation. The top body of the tent is made of mesh, you can roll back the rainfly on warm days to allow even better air flow.
It has Big mesh pockets on the inside wall to store necessities like glasses or phones, you can put a tablet there for children to watch movies. There is a hook at the top of the roof for hanging lanterns, also has a small mesh loft to store gears.
The E-Port helps you to put an electric cord through without worry about leakage and bugs. This is useful when you are camping in the backyard.
However, the weather performance is not so good compared to other tents, but it is enough for mild rain days if this is not your main concern.
The price is reasonable and relatively low.
---
Pros
Good weather performance
Easy put up and down
Excellent ventilation
Durable
Lightweight
Cons
The veranda is not bug free
The Coleman Coastline is relatively small in space compared to other tents in this review, it is 3 person and only fits in one queen air mattress. But the small size also means it has a lightweight that is possible for backpacking and light trekking. The tunnel structure also offers a suitable space to weight ratio. It is ideal for a couple to go camping, you will find it spacious and comfortable.
The tent is divided into two rooms, one for sleeping and the other is a 'veranda' with 3 doors which you can store your gear, cooking, placing a table and chair, or other activities.
The fabric is made of polyester, thick and durable, it is waterproof and performs well on rainy days, according to user tests, it can sustain 40kmph wind, and quite heavy rain. However, in extreme storm days it fails.
The total ventilation is good, with the 3 door porch room and good design, you can expect a great air flow.
The tent lines are a fluorescent green/yellow color which makes them hard to miss, it is useful in the dark night far away from civilization.
The only one pitfall is the veranda does not have screens to keep bugs away, but the main room does, so that's not a big issue.
This is a popular tent on the market, good quality, and durable.  We recommend it if you want a 2 person tent and have enough budget.
---
What is a tunnel tent?
The tunnel tent is not a specified type of tent, it got the name only because of the shape like a tunnel, often it has more space than the dome ones, some of them have porches or screen rooms.
But bear in mind this is just a rough categorization, there is no official "tunnel tent" on the market, like dome tent, it is commonly used by people by the shape it looks like for convenience.
Benefits
The tunnel tent is big and spacious, often comes with removable divider curtains that split it into more separate rooms, sometimes with a screen room or a porch. Big space always means comfortableness.
They often come up with rainfly included, and big windows for good ventilation, with the spacious inner area, it is always a better place for living.
Summary
Except for the Coleman coastline, All other tents in this review are big ones for at least 6 people, as we think people who are seeking for tunnel tents expect it to be large. Actually a spacious tent gives you more comfortable camping experiences, and many of the large tents are even cheaper than a 3 person one.
If you want a tent with great features and reasonable price, we think the campros are a good choice, it is spacious and has a lot of great features, double layered and durable.
The Coleman Montana is also a good choice, it existed on the market for years and the rating is still high, which means it has a solid quality.
But if your budget is not so much, the outbound dome tent may be a good try. It is a great value for money, with lots of features at a very competitive price.
Best overall: CAMPROS 8 person double layer tent
Also good: Coleman 8 Person Montana Cabin Tent with Hinged Door
Best budget: Outbound 8 person Tent with Carry Bag and Rainfly
Keep Reading: