The Coleman WeatherMaster 6-Person Tent with Screen Room is one of the best sellers of Coleman's product line. It ranks high both in selling and rating. There is no doubt that we should spend some time and give a totally in-depth review featuring all it's pros and cons.
Is it really a good tent? Keep reading and you'll find out for yourself.
Pros
Separate screen room
Patented WeatherTec system
Hinged door
Good ventilation
Affordable price
Who is it for & Is it worth to buy
If you are in a hurry, here is our verdict.
The Coleman WeatherMaster 6-Person Tent with Screen Room offers a lot of features at an affordable price. It is a good tent for family camping, or a small group of friends.
It has a lot of convenient design: a hinged door offers easy in and out, a separate bug-free screen room that you can store your gears or sleep in the warmer season. WeatherTec systems that excelled in rain and wind.
Due to the weight, this is a car camping tent and you'd better avoid backpacking trips.
The ventilation is good, and the overall quality is high. You'll feel very comfortable with it.
However, the setup process should take about 20 minutes, if this is your concern then you should take a look at the instant setup tent which only costs less in one minute.
All in all, it is a good choice, and fantastic for family camping.
Let's take a closer look.
Features & Details
Space
The main room is 11 x 9 feet with 6'8'' center height. Which means it is large enough to fit 2 queen-size airbeds. It also has a separate 9 x 6 feet screen room for your gears. If you are using the screen room for sleeping pads, then it is spacious for 6 adults as it officially declared.
However, for comfortability, we recommend 4 adults, or a family of 2 adults and 4 kids.
For a 6-person tent, this is a spacious one.
Screen Room
The screen room is on the right side of the tent. This is different from many other tents with the design using a zipped front door porch.
The main benefit of the screen room is that the walls are full of meshes that provide good ventilation and eyesight as in the openness area, but without bugs or snakes.
It has a space of 9 x 6 feet, which is large enough for you to put a table with several chairs.
There is a zipped door between the screen room and the main. You can put it up to make a connected space with the main room to give an even larger inner space and good air circulation.
Unlike the main part, the screen room does not have a sealed floor, which is common in many screen room tents. This is a design for you to store gears or equipment without worrying about hurting the fabric.
A second zipped door is located in the side of the screen room that allows you to come in and out as an alternative way instead of the front hinged door, which makes up a total of two doors of the whole tent.
From our point of view, the screen room is really a highlight design of this tent.
WeatherTec System
WeatherTec™ system is Coleman's patented technology, it features a series of minor improvements in the tent that makes it stand out in different weather conditions such as wind and rain.

Protected Seams – inverted seams that hide needle holes inside the tent which makes the outside more resistant for water to seep in.
Wind-Strong Frame – stronger, more wind-responsive frame with redesigned poles and guy-out triangles.
Zipper Protection – a waterproof zipper cuff adds more protection to the door.
Waterproof Floors – Welding-inspired technology strengthens the tent floor and eliminates needle holes.
With the carefully designed seams and frames, it performs well in bad weather situations without budget increase.
However, Coleman doesn't provide an official detail of it's waterproofing rating. According to our tests, this tent does outperforms other rivals to some extent. But don't expect too much, it only survives mild to moderate weather conditions (more on this later).
Another thing we should point out is the bathtub floor design. As you guessed, the floor seams are extended up to the wall about 5~10 inches above the ground, forming a bathtub shape. This design increases the floor's waterproofing capability, and keeps it dry during the rainy days.
Rainfly
As you can see from the picture, the rainfly is not large enough to cover every part of the tent, this makes it vulnerable as more water may flow over. Every tent with fabric walls only endures a certain amount of water. In a storm with water pouring onto it the moisture may seep in.
As we said before, you should use it in mild to moderate weather situations.
Hinged Door
A hinged door is much more like normal doors that you just pull or push to open, which is different from many tents that utilizing a zipped door design.
According to user feedback, many people prefer hinged doors because they are easy to get in and out, without the tedious zipping process. It is especially useful for kids, as they tend to mess up with the zippers.
Ventilation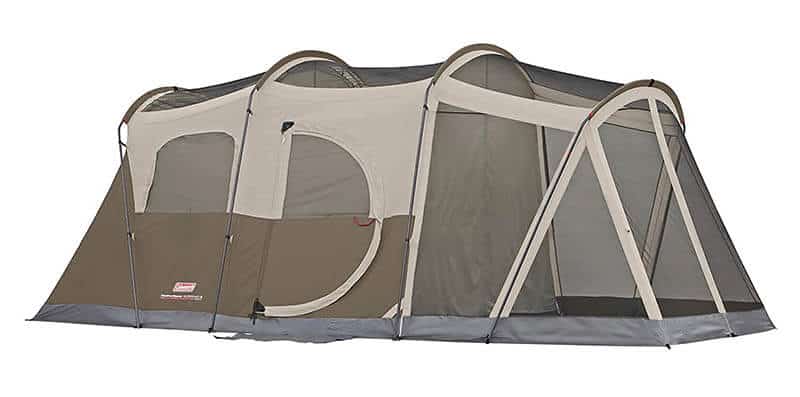 As we can see, there are big windows on the wall, the roof is full of mesh, with a distance gap between the rainfly that gives more air circulation. All this gives excellent ventilation.
If you want more air flow in the hot days, the zipped door to the screen room can be scrolled up, which provides you a luxury ventilation as in the openness.
Height
Note the central height is 6'8''(203cm), and the corner even lower, this is not enough for tall people to stand freely. If this is what you care about then you should take a look at the freestanding tent.
Pools
The pools are made of steel, which is much more durable than the fiberglass design that is found in cheap tents.
It is engineered to be stronger, more wind-responsive, which increases performance in bad weather.
Storage Pockets and E-Port
Those are common designs for mainstream tents.
The wall storage pockets offer you a convenient place to store small necessities such as cell phones,pads or glasses.
The E-Port enables the ability to let the electric cord get through without worrying about the hole's vulnerability to water leaks or insects, which is very useful for backyard camping.
Set Up Process
The setting up process takes about 20 minutes as Coleman claims, according to feedback, some more experienced users can do it in less than 10 minutes. However, it may take up more than half an hour if it is your first try.
The pools are color coded, which makes it much easier to recognize .Straightforward instructions are sewn into the carry bag that are handy for your reference.
Here is a video showing how to set up the tent.

Specifications
| | |
| --- | --- |
| Weight | 32 lb (14.5 kg) |
| Capacity | Up to 6 people |
| Season | 4-Season |
| Package Dimensions | 41 x 10 x 10 inches (104 x 25.4 x 25.4 cm) |
| Main Floor Area | 99 ft² (9.2 m²) |
| Screen Room Area | 54 ft² (5 m²) |
| Peak height | 6'8''(203cm) |
| Material | Polyester, Steel |
Frequently asked questions
What is the coldest weather this tent can be used in?
According to other user feedback, the coldest weather he used was 28°F (-2.2°C), a little below freezing point.
However, this is not a specially designed cold weather tent, you'd better use it in warmer seasons.
Can one person set it up easily?
Yes, according to other users' tests, a single woman can set it up in about 15 minutes. It can be a lot easier if you have more hands.
Can I hang a light in the center of the tent?
Yes, there is a lantern hook. You can hang a battery powered light, don't use propane ones that may cause safety issues.
Conclusion
The Coleman WeatherMaster 6-Person Tent with Screen Room offers a lot of great features at a budget-friendly price. It is a good choice for family camping with a car.
Although it's not an instant tent, the set up process is easy and only takes 10+ minutes.
Taking everything into account, we think it is a tent with good design and high quality. It's popularity on the market is the best proof.
The screen room is really a good feature and we recommend you take a try.
---
There is also a 10-person version of this tent, which removes the screen room and makes the spaces all together. You can check it here.